Meet ALTN8, Hong Kong's premier urban indoor electronic music and arts festival. The day-to-night party, happening on March 11, will bring attendees to experience eight venues in Central District and up to forty performers with one ticket.
In the city where space is pushed to the limit, it's ALTN8's mission to leveraging existing infrastructure and reallocating resources for new experiences.
See also: Sónar Hong Kong has a venue now and it's pretty cool
With a single-ticket barhopping concept, the multi-venue event will give guests exclusive access to Hong Kong's most iconic locations along Wyndham Street and Lang Kwai Fong: Zafran, Halcyon, Rúla Búla, Fish & Meat, Fly, Volar, Mercedes Me, and Spiga, the latest addition which will host one of ALTN8's biggest stages.
The music lineup features renown international and local electronic acts including meister Richard Dorfmeister, Shigeto, Tube & Berger, Nakadia, Stephan Bodzin, DJ Pierre, Danny Rampling, The Nextmen, Nickodemus, Preditah, GotSome, and Wankelmut. Check out the full lineup below.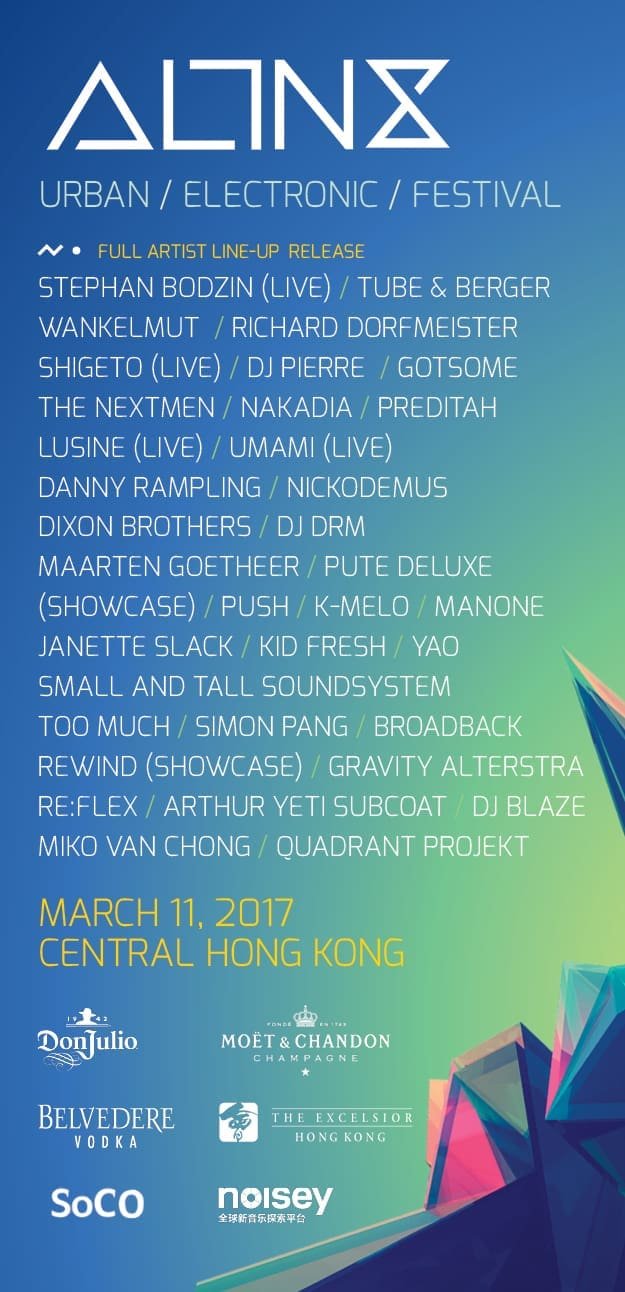 "While we all know and love these venues, the ability to access all of them, with one ticket, from day to night, each with their own concept to bring an indoor festival to life is a totally new experience," said ALTN8 co-founder Charlie Toller.
"Bringing together such an extensive range of credible electronic artists, old and new, means we are able to tap into the core of Hong Kong's music culture and take festival-goers on a music journey in the heart of the city," added co-founder Roger De Leon
Not just stellar locations and curated beats and rhythms, festival-goers will receive a personal touch from ALTN8's latest sponsors Don Julio, Moet and Belvedere, who in conjunction with the eight partner venues have uniquely designed expertise ranging from specialty cocktails to one-off culinary experiences. From all-you-can-eat brunch at Fish & Meat listening to chilled-out beats, through to funky and electro at the only outdoor terrace at Spiga.
See also: All these superstar DJs are heading to LOOPTOPIA, Taiwan's first home-grown EDM festival
As an extension of the festival and in support of Hong Kong's under privileged ALTN8 will be working closely with charity partner SoCo who do the incredible and much needed work in supporting Hong Kongers living in small and squalid conditions. A percentage of the bar sales will go to SoCo.
Tickets are available through Ticketflap and Faninc, ranging from HKD680-HKD1,780. For more information visit ALTN8's official website.
Have something to add? Tell us!