It's a stock phrase at this point to say Southeast Asia has been growing festivals like mushrooms – but none has been so disruptive in their mission like this one: Dropzone Festival wants you to rave to survive.
A brainchild of an international dream team and backed by Thailand Authority of Tourism, the all-new immersive electronic dance music festival makes its debut on Friday-Saturday, March 2-3 at Wonder World Extreme Park with a lineup that cater to every taste from EDM, techno, trance to trap.
See also: A State of Trance world tour is reportedly coming to Thailand in 2018
With a plan to cover five years in each destination (which means we'll have Dropzone Bangkok until 2022), the festival's theme will follow a five-chapter post-apocalyptic sci-fi storyline. It will be the first ever "real-life MMORPG" (massively multiplayer online role-playing games) party where guests are offered a gamified layer to their experience. Suddenly "rave to survive" has a whole new not-so-kitschy meaning.
Enthusiasts and the curious public can expect nothing less than stunning visuals as the creative team has roped in Switch Audiovisuals, Europe's audio-visual frontrunner credited for co-tech producing Sónar Barcelona, and Ledscontrol, an award-winning company behind the famous DWP stage.
See also: Epizode²: Vietnam's electronic festival delivers sonic splendor at second edition
The first installment in Bangkok will introduce partygoers to Dropzone's world with Chapter 1: Apocalypse, boasting its cyberpunk aesthetics and heavy-hitting music across three stages – The Core, The Station, and The Armory. This year's performers, nicknamed "Audiomancers", are led by Kaskade, Dash Berlin, Paul van Dyk, Sven Väth, Valentino Khan, Breath Carolina, A Trak, and Pan-Pot. See a full rundown below.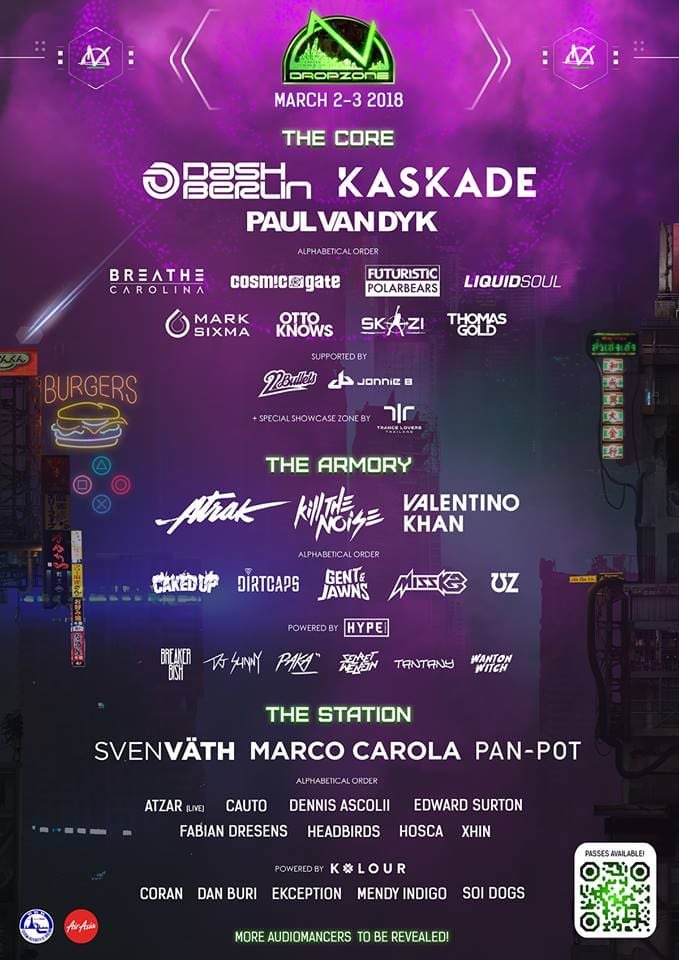 Two-day tickets start at THB3,500. Guests can choose from Silver Pass (THB3,500), Gold Pass (5,500), Gold Table for six (THB40,000) or the Diamond Dome for ten (THB150,000). For more details and purchase, head to Ticket Melon.
Have something to add? Tell us!