Metz Let's get loud, folks. Canadian noise punk trio METZ have announced a massive Asia tour slated for May and June.
In support of their third album released last year, Strange Peace, the band will be playing 11 shows across the region, running from May 23 in Taipei until June 6 in Nagoya.
Fans in Southeast Asia will be able to catch them in Manila, Singapore and Bangkok, respectively. The Manila show is happening on Thursday, May 31 at Mow's Bar, followed by Singapore on Friday, June 1 at Decline. Manila tickets are PHP600, on sale through Evensi.
See also: Welsh pop punk act Neck Deep gear up for Asia – Manila, Bangkok, Singapore and more
Early bird tickets for Singapore are on sale now through Ticketbox for SGD35. The price goes up to SGD40 in the standard advance phase.
The Bangkok gig is locked for Saturday, June 2 at NOMA BKK. Tickets are THB650, now available through Event Pop. The price goes up to THB850 at the door. Local acts Bobkat, Pistols 99 and Death of Heather are scheduled to support.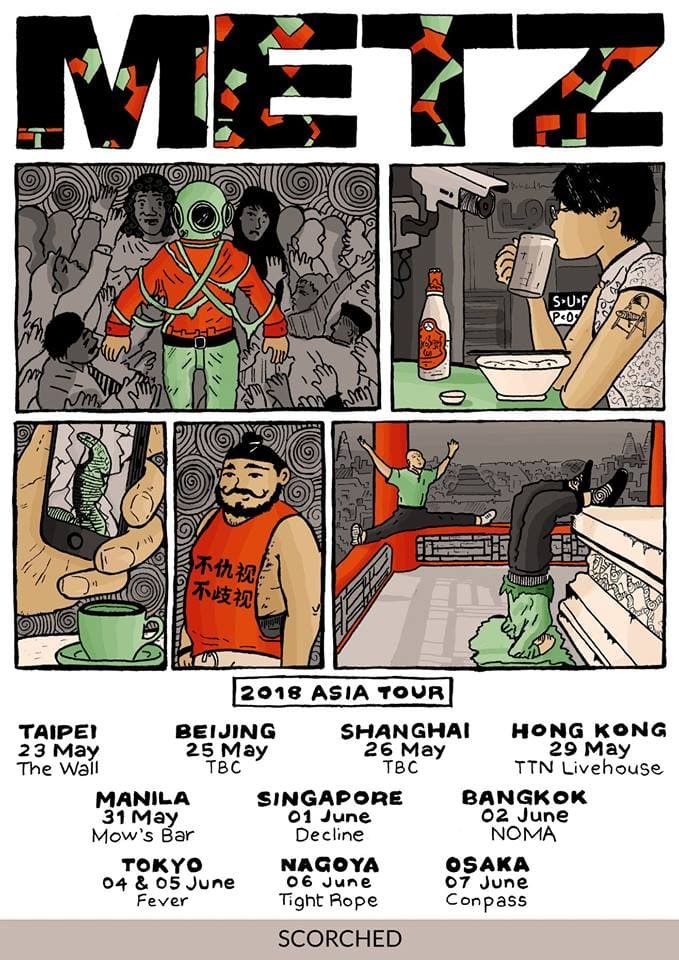 Inspirited by the remnants of 90's grunge and the aggressive side of shoegaze, METZ were formed in 2008 by Alex Edkins, Chris Slorach, and Hayden Menzies. The Ottawa trio released a self-titled debut album in 2012 which was shortlisted for 2013 Polaris Music Prize. The record was followed by 2015's II that once again received a nod from the prestigious Canadian music award.
See also: Texan rockers Crown The Empire plot Asia tour – Bangkok, Singapore, Kuala Lumpur
METZ's third offering, Strange Peace, was released last September. The band tapped prolific American producer Steve Albini and worked at his Electrical Audio studio in Chicago, where they recorded the album live off the floor to tape. Stream it in full below.
---
Update (Feb 28): METZ's show in Manila is presented by Sleeping Boy Collective. Tickets are PHP600 apiece. Reserve yours here

.
Have something to add? Tell us!