"If I could, then I would, I'll go wherever you will go…"
If you're familiar with this lyric, then you are in for a treat because Alex Band said he could and would come to Manila to perform with his band The Calling. And it seems like he's definitely fulfilling this promise as he and his band have already arrived in Manila for their first ever Manila concert.
See also: Alex Band promises "a huge show" with The Calling in Manila
After a blazing hot noon, Alex Band and The Calling were welcomed at the New World Manila Bay Hotel to sit down and chat with the Filipino media. Upon entering, Band and his rock cohorts expressed their excitement to be in the country. Band then continued to thank their Filipino fans who have stuck with him for over a decade.
"The fans in the Philippines, like I said, over a decade now have shown more support for me than in my own country" Band jokingly said.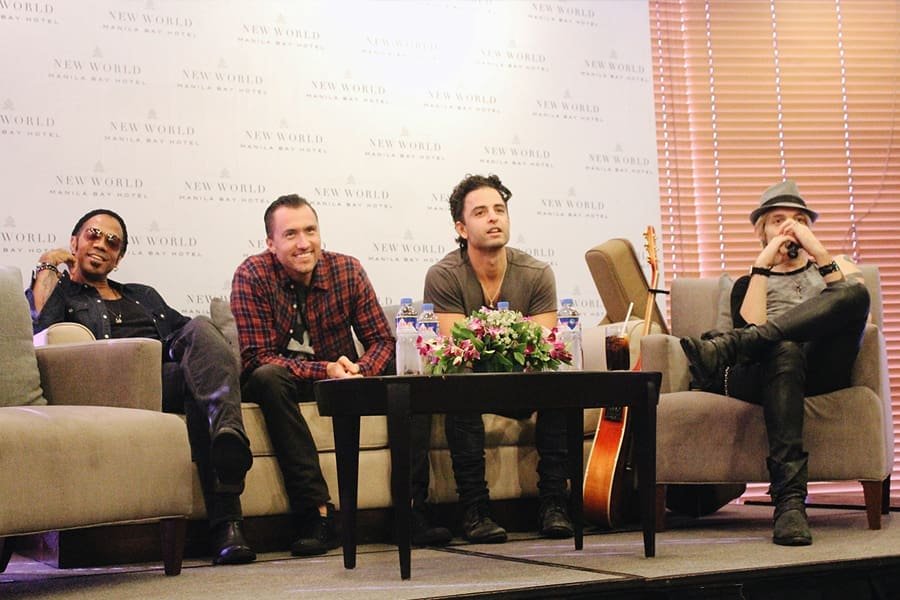 He also described his personal attachment to the Philippines, "I have to tell you something personal that really connects me to the Philippines. When I was very sick years ago, and also when my first wife was dying in the Hospital many years ago in America, it was the Filipino nurses that saved our lives". I think I'm speaking for all the Filipino fans out there when I say how thankful I am to all those Filipino nurses.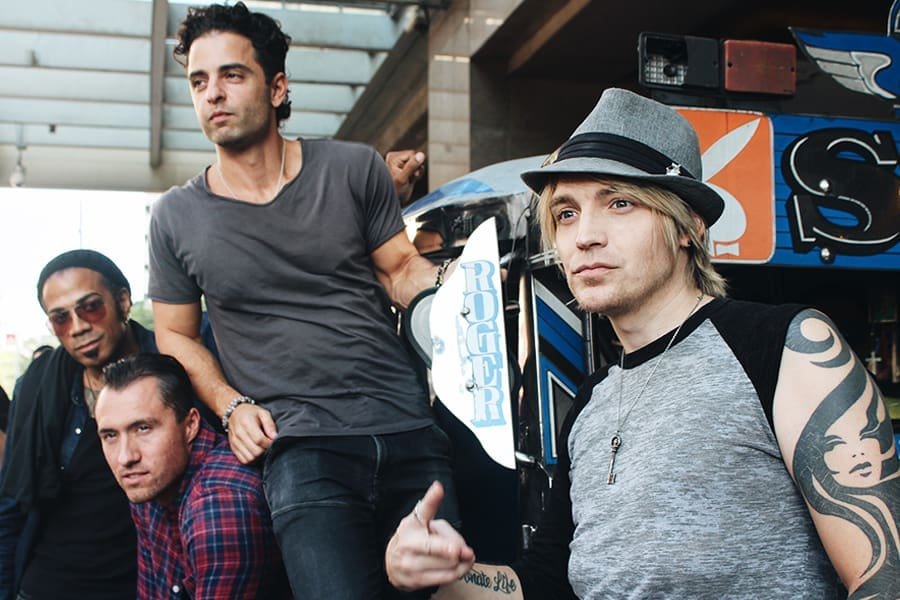 With the overwhelming support of his Filipino fans, Band, alongside his bandmates, Sean Kipe, and Jake Fehres, decided to jumpstart a new phase of their career starting with the Philippines. It has only been a week since I started properly going through The Calling's discography (I hadn't heard of "Wherever You Will Go" until last week, please don't judge) but I'm so stoked to hear them live. Along with the many Filipino fans of Alex Band and The Calling, I'm also ready to be captured by The Calling's music once again!
See also: Yellowcard to round up two decades of career with final shows in Asia
Here's a full recap of yesterday's press conference.
On music they listened to when undergoing hardships
Beside David Bowie's music, Alex Band finds strength and motivation in his own. "Strangely enough, I never thought that it would be my own music that got me through the hard times," Band said. When he was diagnosed with Parkinson's five years ago, Band would listen to his own unreleased material when he was trying to get through difficult times. This makes me even more excited for what he has in store for us. Imagine all the emotional songs the upcoming record has!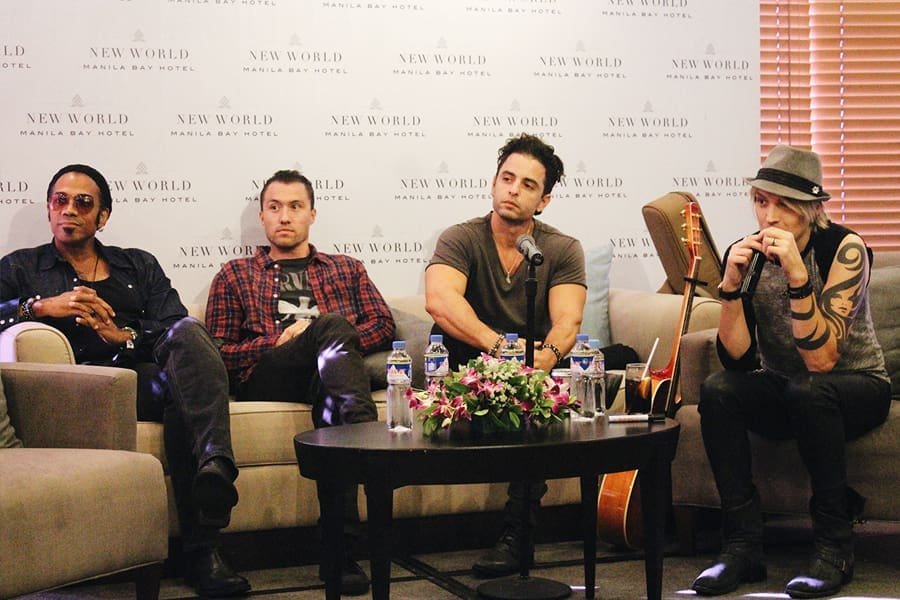 On Band's favourite song that he's written
Just like a lot of us, Band also favours their mega hit "Wherever You Will Go". Well, Billboard did not name this song as the number one song of the decade for nothing. "I mean, it's a song I wrote when I was sixteen," said the now 35-year-old frontman. "It is insane how something like that can touch everybody."
On the band's relationship status
I'll make this quick and painless – everyone's unfortunately taken. But they're willing to serve as everyone's boyfriends for their one-night show here. Just another reason for you to see them live this November 11!
On how long they'll be staying in the Philippines
Despite their promise to be in a relationship with you, they won't be staying long and will be immediately leaving on the day following the show. Seems like they won't stick around long enough to see more beauty of the Philippines. One thing is for sure though, their one-night show will be something special both for them and the fans.
On the new music fans should expect
To all the fans who love emotional and deep songs, you're in luck! Their new record will feature a bunch of songs similar to "Wherever You Will Go". To everyone who's a fan of anthemic songs with a nostalgic ring, looks like we'll have our new "Wherever You Will Go"s soon.
On the message to aspiring musicians
"If anybody has the aspiration to do music, even though the music business is so difficult now, it's also so easy to get free music and make your own page and do everything," Band said. "If people like what you're doing, you can go from being on an island to the coast of the Philippines or the top of the charts. That's what the internet has done for us."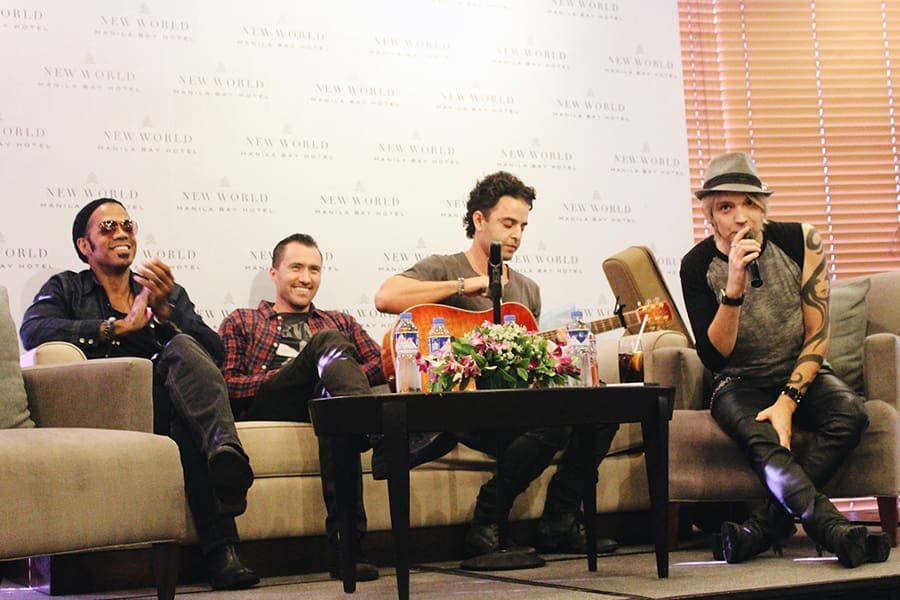 Before the press conference wrapped up, Band and The Calling sang an acoustic version of "Wherever You Will Go". Everything felt surreal the moment everyone in the room joined in. It gave us a glimpse of what to expect. I, for one, am very excited to hear this song again in an entire arena full of people cheering and singing along. This will definitely be one of the biggest rock concerts of the year.
Catch Alex Band and The Calling's first ever Manila show on Friday, November 11 at the Mall of Asia Arena. Tickets are still available through SM Tickets. 
Have something to add? Tell us!