Dua Lipa is a 21-year old British singer-songwriter and model of Albanian descent behind synth-pop hits like "Blow Your Mind (Mwah)" and "Be The One". If her name rings any bell, one reason is probably you've heard her hit collaboration with Martin Garrix, "Scared To Be Lonely". Or because she is named second to only Adele among female British music artists. Or, well, she's just that good despite her emergent status.
Rising to fame with her YouTube covers of pop artists, Lipa signed with Warner Bros Records in 2015. By August of the same year she released first single "New Love", followed by "Be The One" in October, which debuted atop the UK's Singles Chart and, together with her Sean Paul-collaborated single "No Lies", made her the only artist beside Ed Sheeran to hold both No. 1 and 2 spots on the Top 20 Chart. 2016's "Blow Your Mind (Mwah)" became her first entry to the Billboard Hot 100, claiming the 72nd spot before reaching No. 23 on the Mainstream Top 40 chart.
Dua Lipa brought her impressive profile and chart-toppers to the Philippines for the first time on Saturday, May 13. The singer put on her pop prowess in a stripped down private media showcase and meet a few chosen LOVEs (her official fan club) ahead of her return this August 17 at In The Mix Manila, where she'll join the ranks of DNCE, Zara Larsson and 5 Seconds of Summer.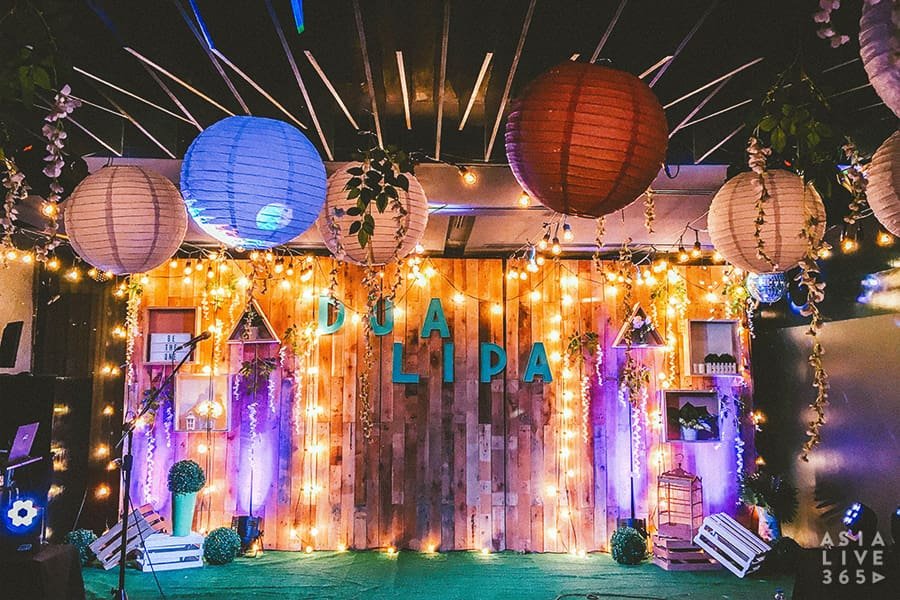 The showcase, held at the Marco Polo Hotel in Ortigas, was eye-catchingly well-decorated, with a generous amount of decorative lights and paper lanterns. After a few introductions here and there, by 8pm the star of the show was already making her way to the stage, bagging everybody's applause and screams with her.
Lipa dove straight to the first song, "Blow Your Mind (Mwah)", taking center stage with her guitarist. I was skeptical of the song's being performed acoustically at first. But alas, true to her song, she blew our minds with her gorgeous and powerful vocals. Together with the guitarist, she gave a new lip-smacking flavour to the synth-heavy song.
The show progressed to "Be The One", which equally sounded good acoustically. I noticed both fans and members of the press were already dancing in their seats by this point. Last but not least, Lipa sang "Lost In Your Light", her latest single off her upcoming self-titled debut album. While Miguel didn't tag along, I was personally looking forward to hearing the song as a fan and was not disappointed. Lipa managed to sing both parts and hit every single note. There wasn't enough time to do more songs, unfortunately, but before wrapping up the event, the Brit singer entertained several interview questions from the media. Some of which include:
Her musical influence: Pink, Nelly Furtado, Destiny's Child
The weather in Manila as opposed to back home: Very different. Significantly different, but I'm really enjoying it here.
Her "scary" experience with Chris Martin (the two have collaborated on a song for her debut album): I was nervous absolutely. When you meet someone who really inspires you, who you really appreciate, of course you're very nervous. Not scary, but I was nervous. It's one of those things that I was nervous that I'm playing songs from the album, but I was also very excited at the same time. He's so lovely and kind and I've had the best experience working with him. I think the song is really really special and I can't wait for everyone to hear it. I'm really looking forward to that.
Artists she'd like to work with in the future: I love Frank Ocean, The Weeknd and Sia. I'd love to write with Pink and Nelly Furtado. I mean, the list goes on. There are so many amazing artists that inspire me.
Her thoughts on Niall Horan's cover of "Scared To Be Lonely": We're not working on any collaboration. It's very lovely of him to cover it and also, it means a lot to me, obviously it's nice to know that he likes the song and I'm very flattered.
What to expect from Dua Lipa, which drops in less than a month: I just can't wait for you guys to hear it. I don't know, I've got no other words, I just can't wait to share this with you. It's been a long time coming and I really really hope you like it.
Topics or feelings she draws inspiration from: I definitely find a lot more inspiration from sad things and sad feelings. And those are the things that linger in my mind the longest. When you're sad and heartbroken, it makes me good pop songs.
Her first impression on Filipino fans and a message to them: First of all, they're all super lovely. I'm very lucky to be here and to get to experience a place like Manila and get to come and meet all of you guys. I'm very thankful for that. Thank you for listening to my music and for supporting me. I can't thank you enough. I love you!
Dua Lipa's debut studio album, Dua Lipa, is out June 2.
Special thanks to Warner Music Philippines.
Have something to add? Tell us!