South Korean boy group iKON will perform across the globe for their first world tour 2018 Continue Tour starting this August.
See also: Hallyu Pop Fest 2018: Here's everything you need to know about it
An announcement is made today. The 7-piece boy group iKON will be performing their hip hop pieces across the globe for their world tour 2018 Continue Tour starting on Saturday August 18. The boy group will be having their first performance in Seoul before swinging by Kuala Lumpur, Bangkok, Singapore, Manila and Jakarta.
Alongside these cities, the South Korean hip hop group are also slated to take their tour to Taipei and Hong Kong as well.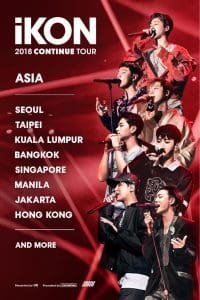 However, the details on dates and tickets are yet to be announced. We'll give you an update immediately once there's further announcement.
iKON is a boy group artist under the management of YG Entertainment. Their popularity increased through their appearances in Korean reality survival TV programs. The boy group earned their musical success through the release of their debut album "Welcome Back" featuring the chart topping singles like "My Type", "Apology" and "Dumb & Dumber". Now iKON are ready to invade the world with their hip hop hits and latest works.
Don't miss: CL and Nick Jonas to perform for MTV Asia x Hyper Play in Singapore
As we are waiting for iKON's world tour further details, here's the taste of their latest music video:
Have something to add? Tell us!