Joss Stone's The Total World Tour is about to get more total, with Yangon and Bangkok added to the upcoming Asia dates.
The Grammy Award-winning artist behind "Don't You Want A Ride?" and "Super Duper Love" is bring her soulful sounds to the Yangon crowd at The Kandawgyi Palace Hotel on March 4, two days after her scheduled appearance at ChubMet Music & Art Festival in Siem Reap. Details can be found here.
See also: Koh Samui's Paradise Island Festival releases new dates and expanded lineup
Stone will also visit Bangkok on March 9, performing at a charity event by Special Olympics, a nonprofit organisation for children and adults with intellectual disabilities. The intimate performance will be held at Cloud47 Casual Rooftop Bar, United Center. Tickets are THB2,000 and THB5,000, now available through Thai Ticket Major or +66 918899600.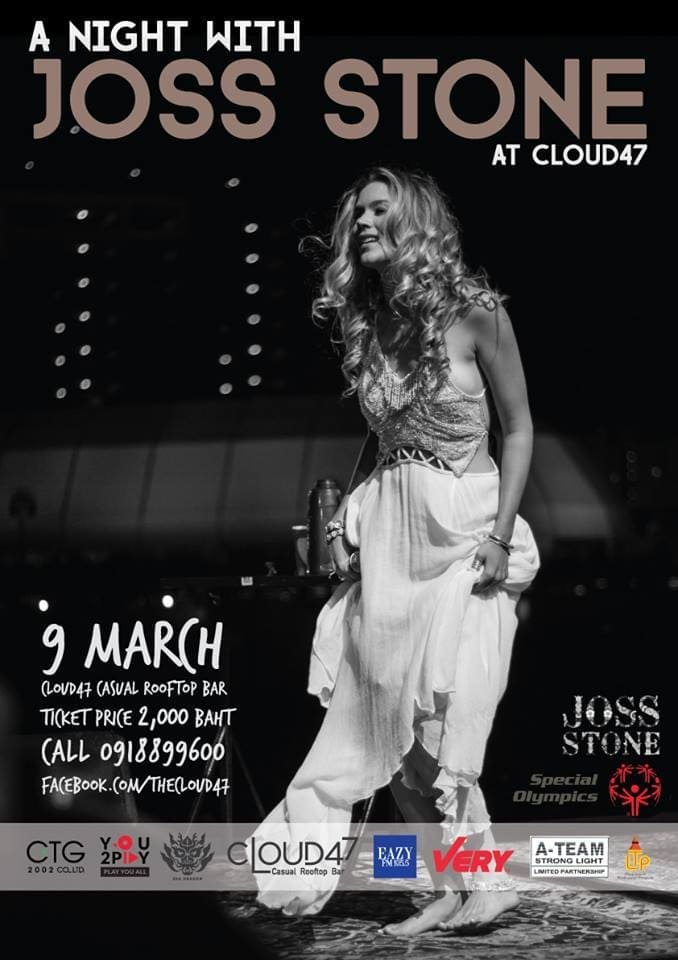 In addition to the Southeast Asia dates, the singer will perform in Taipei on March 16. The Total World Tour began in April 2014 and should take up to three years to complete 204 countries.
See also: Electronic legends Underworld set to perform in Bangkok for the first time
Since releasing her first album The Soul Sessions (2001) at the age of sixteen, Joss Stone has sold 12 million albums worldwide, establishing herself as one of the best-selling artists of her time. She has recorded and performed songs with many of the worlds most revered artists including Stevie Wonder, James Brown, Mick Jagger, Jeff Beck, Damian Marley, and Annie Lennox.
Stone released her seventh and latest album Water For Your Soul in 2015. Here's its lead single, "Stuck On You".
Have something to add? Tell us!