After the success of last year's virtual festivities, Singapore's Legacy Music Festival returns with its third edition to be held online on December 17-18, 2021.
Singapore's Legacy Music Festival, now in its third edition, will be held virtually for the second year in a row due to the current restrictions in the country.
The event will be aired on December 17-18, 2021 via Mixcloud.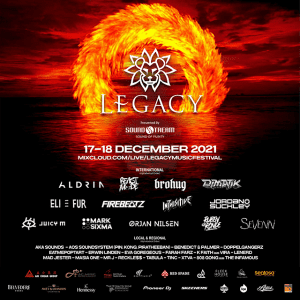 Known for celebrating a variety of music genres, this year's lineup will feature some of the best breakthrough artists as well as putting more focus on local talents.
Legacy Music Festival 2021 features produced sets that will be recorded offsite at various venues in Singapore, at scenic locations in Sentosa and also on board a Yacht. Each set will run for 45 minutes.
Much like last year's virtual event, which saw over 100,000 views over two days, the festival is free to stream.
However, Legacy and its sponsors are pooling together to provide funds for its local acts who have not been able to find gigs in 20 months due to nightlife still being shut in Singapore. 
The event will be sponsored by Soundstream, Moet & Chandon, Belvedere and Hennessy, SNOB by The Straits Wine Company, Fleek House, and Glam Salon.
Featured Acts (In alphabetical order): 
International: 
Aldrin
Brohug
Beastmode
Dimatik
Eli & Fur
Firebeatz
Inquisitive
Juicy M
Jordan Suckley
Mark Sixma
Orjan Nilsen
Ruden De Ronde
Sevenn 
Local: 
808 Gong
AKA Sounds
AOS Soundsystem ft. Pin, Kong & Piratheeban
Benedict & Palmer
Doppelgangerz
Eva Goregeous
Erwin Linden
Farah Farz
KFaith & Vira
LeNerd
Mad Jester
Masia One
Mr J
Reckle$$
EATMEPOPTART Tabula
The Infamous Tinc
XTVA
Have something to add? Tell us!