The 4-piece American rock heads Movements confirmed their Southeast Asia tour to promote their debut effort Feel Something. The band will be heading to Thailand, Singapore, Indonesia, Malaysia and the Philippines this September.
Don't miss: 90's Irish rock band ASH to make only stop in Southeast Asia
The band will kick off their SEA visit in Bangkok on Monday, September 3. On the night, the band will be heating up city's atmosphere at De Commune. Early birds available at THB750 via EventPop.
Meanwhile, their second show will be happening in Geylang, Singapore on Wednesday, September 5. The band will take the stage at Decline before heading off for two shows in Indonesia. Tickets will be on-sale through Ticketbox. Early birds will go on-sale today (Jul 25) at 3pm onwards, priced SGD20 and will raise to SGD30 on Wednesday, August 8 at 12pm.
Indonesian fans can catch Movements live on stage in Jakarta and Bali. The 4-piece are slated to perform at Gimme Shelter in Bali on Thursday, September 6. Tickets TBA. Whereas, its Jakarta debut will be happening on the next day (Friday, Sep 7). Early birds are on-sale via GMX at IDR200,000.
On the weekend, the band will be spending their time hosting two more concerts in Malaysia and the Philippines. On Saturday, September 8, the punk rockers will be live on stage at Atasbybijanf in Petaling Jaya. Pre-sale tickets are available at RM60 through Peatix. And they will finish off their SEA tour at 123Block in Mandaluyong on Sunday, September 9. Tickets are going on-sale via googledocs. Prices are PHP600 and will raise to PHP700 at the door.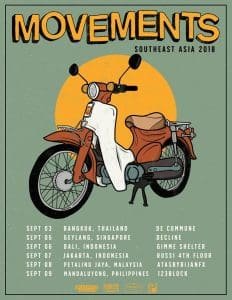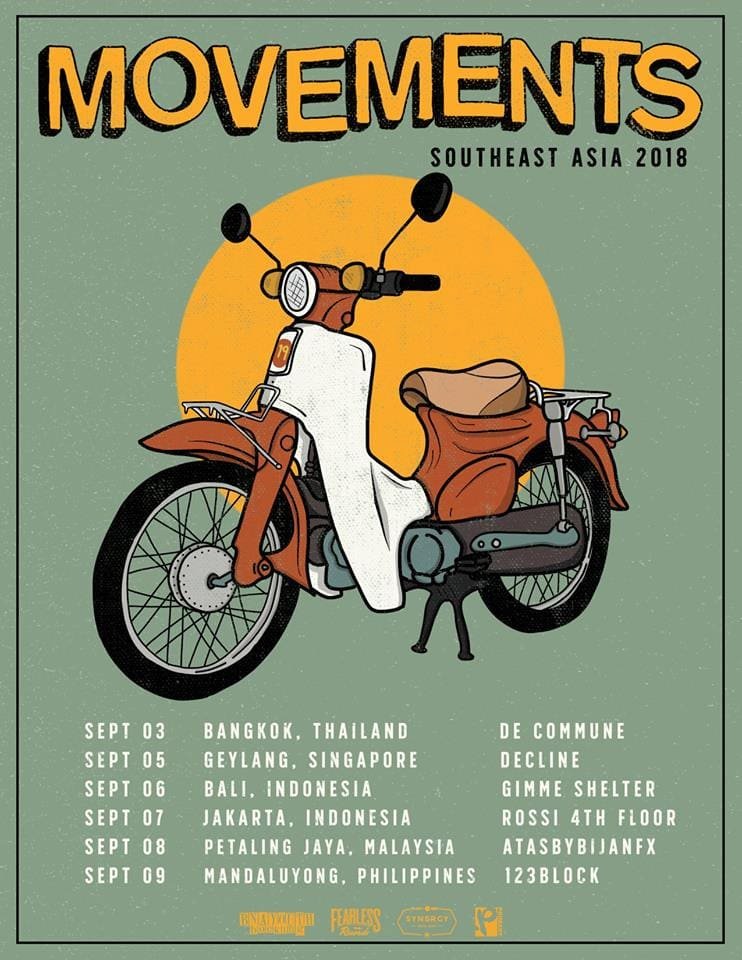 Formed in 2015, the Californian band consist Patrick Miranda (vocalist), Ira George (guitarist), Spencer York (bassist) and Austin Cressey (drummer). The band is known for its elements of post-hardcore, emo, alt-rock sounds combined with spoken words.
Live Review: Daughtry gleams on Singapore with sensational and powerful performance
After signed to Fearless Records, the band has released an EP in 2016 Outgrown Things, followed by a debut album in 2017 Feel Something. The album entered Billboard 200 charts. Currently the band are touring to promote their first studio effort.
Here's the taste of Movements' latest music video "Deadly Dull":
Have something to add? Tell us!