(5 / 5)
With their new album out in three weeks, singer Josephine Vander Gucht says the duo will be back in September.
Before the set I lingered near the back of Baan Rim Naam (Talad Noi) watching as Anthony West and Josephine Vander Gucht of Oh Wonder prepared to make the stage. Already the warmth of the rustic China Town venue felt like home, and with some of their biggest fans gathered it was as if we'd been transported to a close friend's house party.
The sunset session took place in a 200 year-old warehouse along the Chao Phraya River. The restaurant/bar was built of wooden beams and filled with plants and a garden to soften the geometric architecture. Looking out over the river, a thick layer of smog hovered over what was visible of the city's horizon. As the performance ensued, we felt the shift of lighting as golden hour passed through.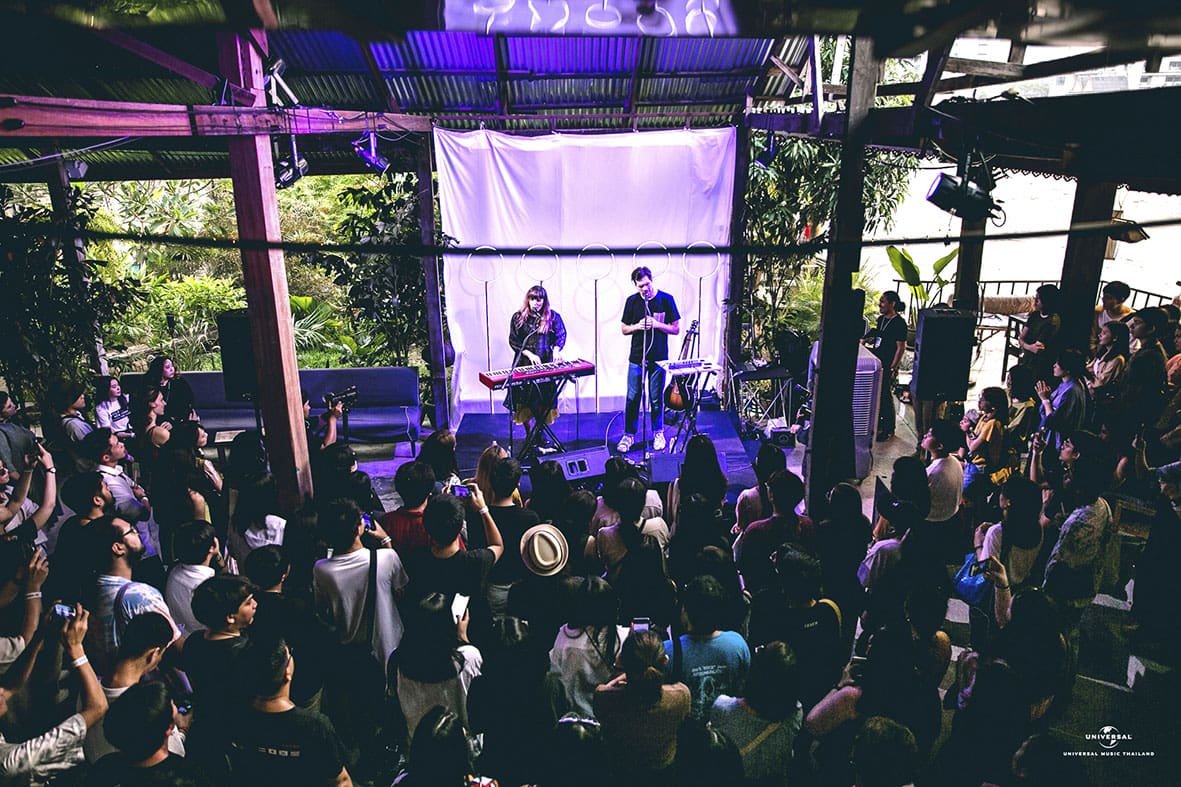 The keyboards introduction into a stripped down "Better Now" couldn't have fit better into the golden light of the sunset. We felt at ease and comfortable, as if they were playing in our very own living room. The hushed lullaby vocals and naturally beautiful harmonies nearly moved me to tears as I felt a steadiness approach into my heart. With what appeared like minimal effort, the duo were able to ground the listeners and give them a strong feeling of lightness and hope.
The crowd sang along to "Without You" in clear, whispered voices which made for the ideal wholesome moment. In order for the musicians to make the most out of the brevity of their performance, we were lucky enough to hear a never-before-heard mashup of a few of their top songs. With two more pop up shows awaiting them, we were thankful to have the amount of time with them that we did.
As I meandered through the crowd later on in the set, I was able to look at the faces of the fans in the front row. These fan's demeanors were quite possibly even cuter than the kittens I passed by on my way into the venue. Every single one had an immense smile on their face, like they couldn't physically control all the happiness and love they were feeling in that moment as they swayed back and forth dreamily to the music. Those at the front were later able to take a picture with both Anthony and Josephine. It was easy to see how and why these two ended up with such devoted fans.
In her black chunky Balenciaga sneakers, Josephine spoke to us with sincerity and an honesty about how the duos new album had been written about both of their ex's. Josephine confessed to having been cheated on by all of her previous boyfriends and that it escalated to the point where she threw a fire extinguisher at one of those ex's! Though she may have lost hope in love and in men for a short time, she claims to have had her faith restored after meeting Anthony. The secrets didn't stop there, as she assured the crowd that Oh Wonder would be back to perform in Bangkok in early September. I think it's safe to say that all of our own faith that evening had been restored thanks to Oh Wonder.
Have something to add? Tell us!