(4 / 5)
Six years since its conception, KCON made its way to Bangkok for the first time and the two-day convention-cum-concert was a delightful fanfare for Thais' undying love for Korean pop culture.
The Korean Wave – known familiarly by now as Hallyu – had long hit Thailand before it did KCON's origin in the American West Coast. Naturally, organisers CJ ENM and BEC-Tero could expect feverous response. Over 41,000 people were reportedly in attendance at Impact Exhibition Hall 1 and Impact Arena throughout last weekend of September.
AsiaLive365 joined in on the fun on Sunday, September 30, where fromis_9, The Boyz, Varsity, (G)I-DLE, The EastLight, Pentagon and GOT7 were billed with 2PM's Nichkhun acting as special host.
By the time yours truly got there, the stretch outside the venues was already buzzing, with fan-run market stalls, giveaways – people literally handed out photo cards of their bias for free – and local influencers vlogging their day away. Inside, the convention was a sweet symbiosis of all things K-hyphenated: from music, dramas, digital content, beauty and fashion, food, to arts performances. Beside different booths that showcased these, fans had the chance to interact with their favourite creators and idols whether at meet and greets, talks or via activities at music channel M-net's corner.
It works the other way around as well: KCON is a way for smaller acts and recent debutants who have yet to have an opportunity to tour or perform outside South Korea to get the kind of exposure YouTube and social media alone cannot give.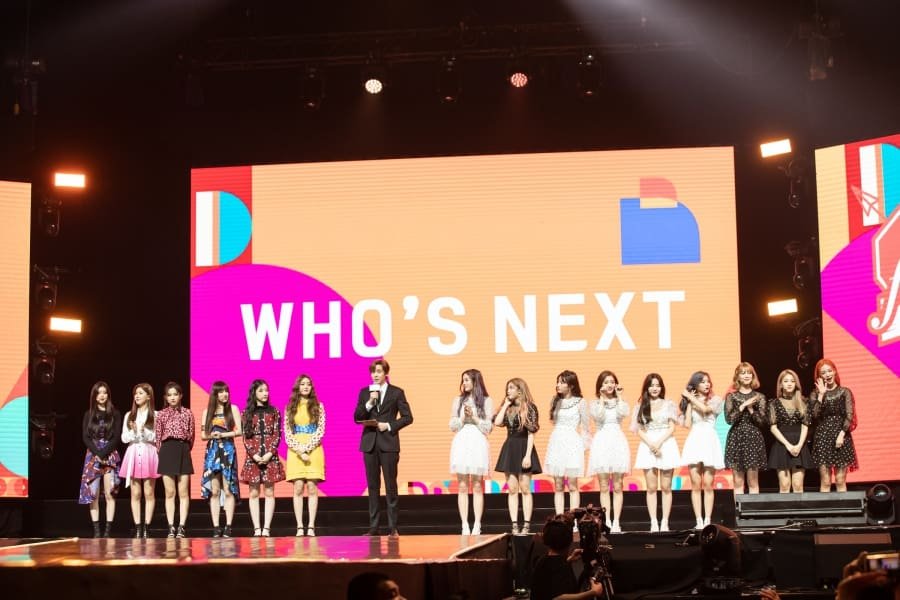 This was also evident in the structure of the M-Countdown concert itself, with segments like "Who's Next?" that brought rookies fromis_9 and (G)I-DLE shoulder-to-shoulder, completing several tasks, like the aegyo and speed dancing, to impress Thai unnis and oppas; or special performances like that by Show Me The Money Thailand's top contenders, (G)-IDLE's rendition of Shinhwa's 2004 "Brand New" and The Boyz's take on Girls' Generation's "The Boys", following a long tradition of younger acts performing their seniors' songs.
While fans could stream it from their couch thanks to main sponsor AIS, the show was best experienced live, eternally dolled up for broadcast as K-pop is. Like the genre, there was enough variety for everyone whether you're teenybopper, hip-hop, electronica, or reggaeton-inclined, and it was never not eye-popping.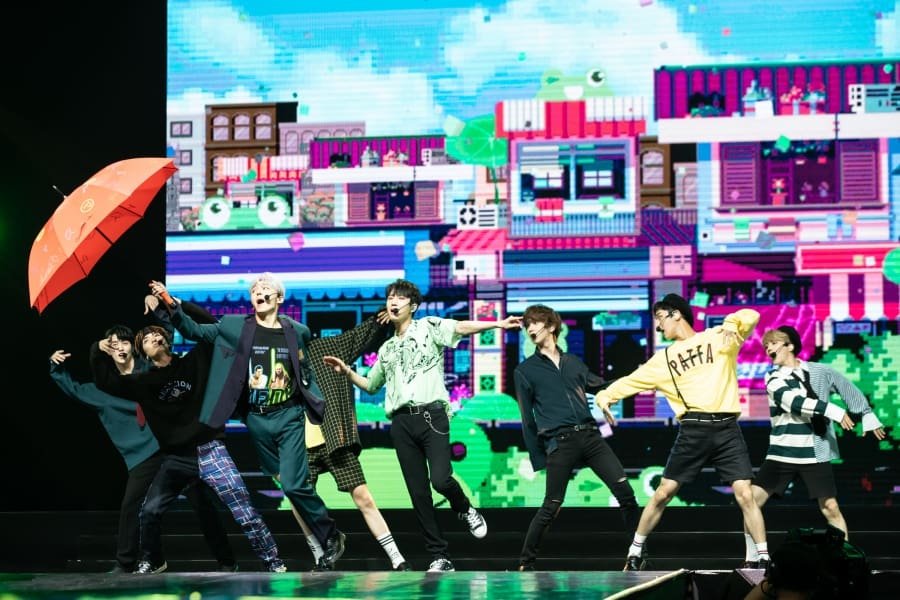 But Cube Entertainment's latest batches of talent Pentagon and (G)I-DLE stood out from the rest. The productive now nine-member male group worked their playful boyish charms for "Naughty Boy" and "Pretty Pretty" before getting fans in the pit attempting the "shoot dance" in "Shine", their biggest hit to date.
Meanwhile, their female labelmates captured the crowd without any help of viral moves. Led by Unpretty Rapstar's Soyeon and Thailand's own Minnie, (G)-IDLE put on a remix version of "Hann (Alone)" and dancehall-tinted "Latata", their first two releases that have already made to the Top 5 of Billboard's World Chart.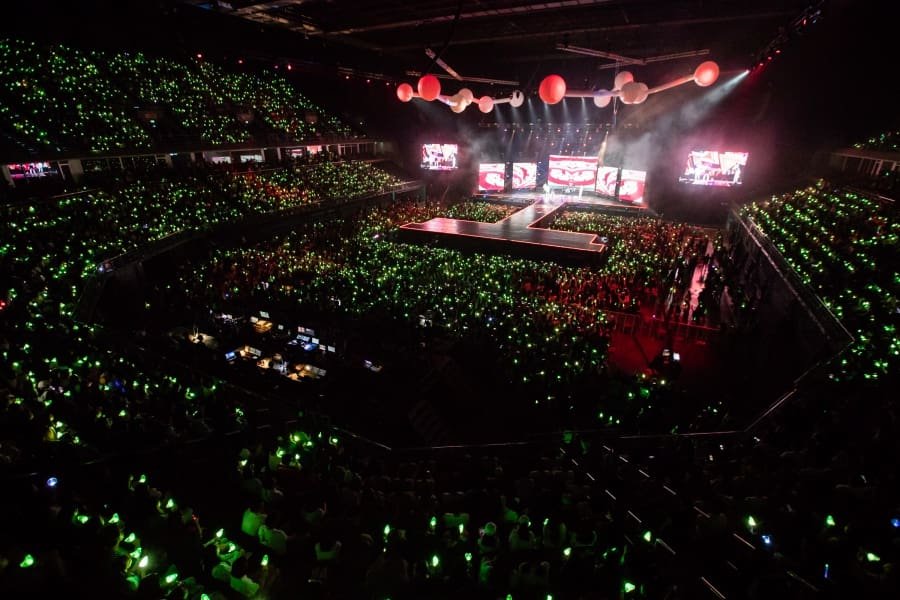 Headliner GOT7 pretty much made KCON an extra half-date of their Eyes On You Tour, and it's not just because the group rehashed their sub-unit performance. Beside their own fan meeting-style segment, the septet inspired an arena-wide ocean of chartreuse green and chills-inducing fan chants to "Lullaby", "Never Ever", "Look" and "Hard Carry". It's things like this that remind you that, with all the emulation and application to concerts by western powerhouses, the collaborative experience between the audience and their K-pop idols remains unequalled.
If some fans thought the music lineup was a bit of a dry spell despite the force that was JYP's golden boys, that the show wrapped up 30 minutes ahead of its scheduled time only underscored this. Nevertheless, it was an impressive first venture here for KCON and I can only picture bigger editions in the years to come. Take it from a self-proclaimed ex-K-pop fan who has this event, among other things, to credit for her coming out of retirement.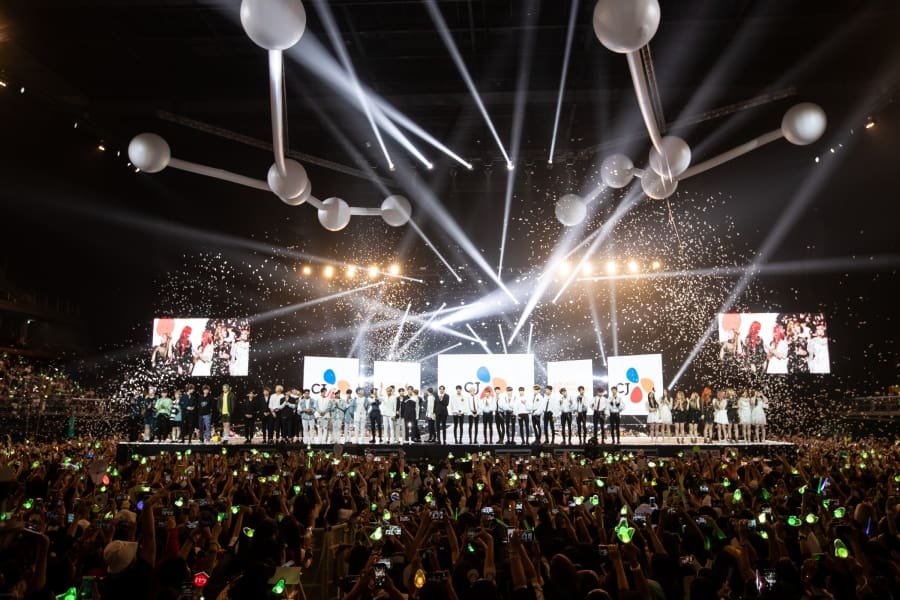 Special thanks to KCON Global and BEC-Tero.
For more reviews and coverage from AsiaLive365, click here.
Have something to add? Tell us!