I did not anticipate just how much I would be bowled over by last Friday's 'Singer-Songwriters: Some Strings Attached' gig at the Drama Centre, but I was. Friday nights are made of good vibes and good music and that was just what last week was all about.
Beyond what was a great and impactful, certainly empowering and heartfelt concert, was the camaraderie between the artists on stage, and also among the audience. Amidst the cheeky banter about the height of the mic stand between the different artists (depending on their height), there was also a  familiarity and friendship among the audience, an intimate show, so to speak.
The sold out show consisting of 232 attendees shone as brightly and dynamically as the lighting on stage, which I might add, was absolutely phenomenal!
Held as a one-night only live concert that featured six of Singapore's most prolific singer-songwriters such as weish, Jack & Rai, lewloh, Jaime Wong, Amanda Tee, and Krysta Joy, the gig also saw these talented individuals take the stage alongside a 7-piece string ensemble and a rhythm band led by veteran Music Director Bang Wenfu.
From Krysta Joy's introspective rendition of 'Beyond', to Amanda Tee's folk-like vibes of the 'Unbearable Lightness of Being' or Jaime Wong's smooth and strong RnB-like vocals with 'Breakeasy', there were moments that enthralled us, soothed us, and pulled at our heartstrings.
I particularly enjoyed lewloh's 'carelessly killed', which was poignant and beautifully heartbreaking. I loved the ominous film-like start and spiccato strings of Jack & Rai's 'The End', which also exuded some Of Monster and Men vibes. But above all, I was blown away by weish's chilling and compelling performance of 'To the Bone' – which reminded me a lot of the transcending magic of Norwegian singer AURORA.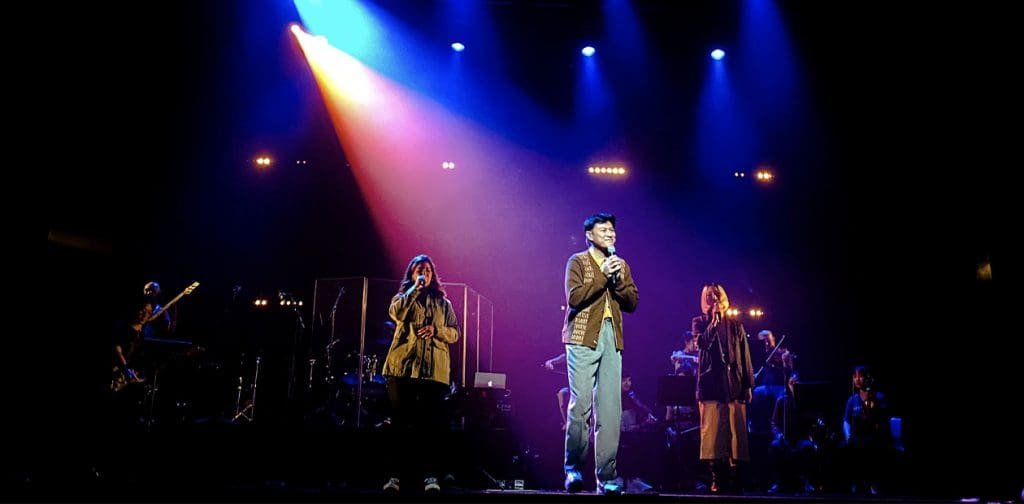 The mélange and juxtaposition between the strings and vocals of the rearranged and re-imagined songs from each artist was beautifully done, giving each song a new colour and texture of life.
Some Strings Attached gave me more than gig vibes that night. It made me remember that, albeit a busy schedule, one must never forget how good it always feels to be near music and music gigs, and the catharsis it brings to your heartstrings. Oh! And that I should probably dust off my violin and practice. My heart broke every time the E string was played! Hold on to your heartstrings indeed! A very, very special night!
Singer-Songwriters: Some Strings Attached Set List
Pre-Show

Krysta Joy, Beyond

Amanda Tee, (You Don't Get Sick from Just) Playing in the Rain

lewloh, carelessly killed

Jaime Wong, Breakeasy

Jack & Rai, The End

Weish, One Day

Jaime Wong, Shame on You

Amanda Tee, Unbearable Lightness of Being

Jack & Rai, Release Me

Weish, To the Bone

Krysta Joy, Hold Me

lewloh, grow together
Have something to add? Tell us!