Hardcore punk band Sick Of It All are returning to Southeast Asia this October, with plans to perform in Singapore, Bangkok, Jakarta and Manila.
After spending last year touring the world with their 30th anniversary tour, New York four-piece Sick Of It All are ready to embark on their extensive Asia tour. It will see them perform in Japan for the first time in two decades. Check all tour dates below. More details will be added once available.
See also: American metalcore band Issues to perform in Bangkok
Oct 11 – Singapore, Aliwal Arts Centre
Tickets: SGD45 / 55 (at door) via Peatix
Oct 12 – Bangkok, The Rock Pub (with License To Kill and The Greed)
Tickets: THB1,000 / 1,200 (at door) via AMP Shop at Chatuchak Market or call 081-6923961. See here for more information.
Oct 13 – Jakarta, Rolling Stone HQ (with Strikeshc, under18, straightanswer, and finalAttack)
Tickets: IDR150,000 / 200,000 via all Indomaret and Jakcloth stores
Oct 14 – Manila, Venue TBA
Tickets: TBA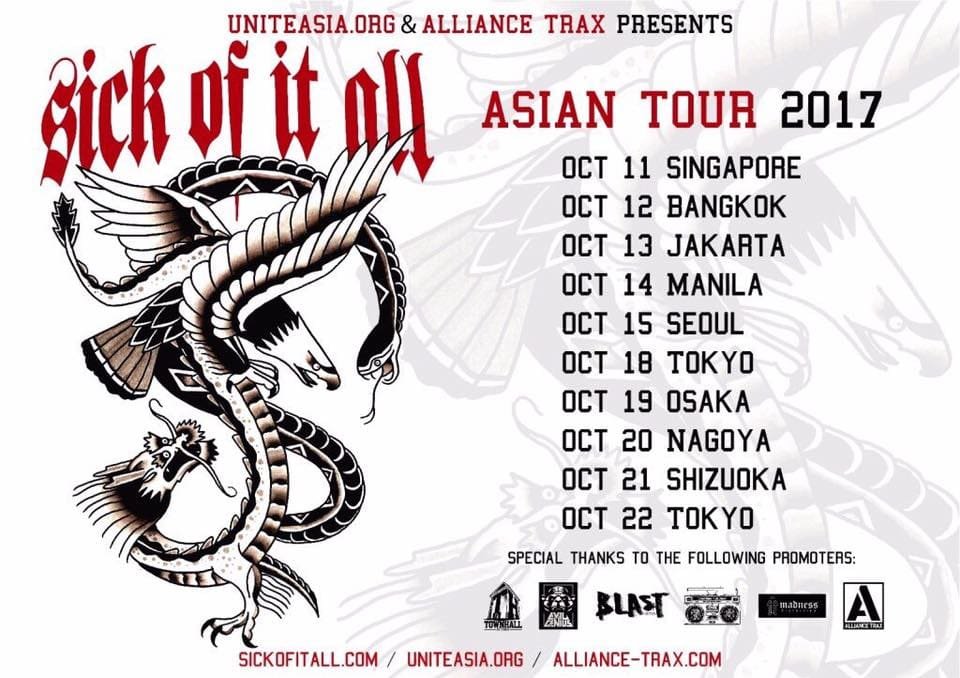 On coming back to Asia, drummer Armand Majidi said in a statement, "We're excited to announce that we'll be back in Asia in October 2017! And not just Southeast Asia, where we've found some of the most spirited crowds in world hardcore, but for our friends in Korea and our old friends in Japan, who we first visited back in 1993 and have enjoyed a storied history with. This is a dream combination for us, because for the first time, we're able to tie together so many great hardcore scenes into one tour."
See also: Foo Fighters are returning to Singapore
Formed in Queens, New York, Sick Of It All are Lou and Pete Koller on vocals and lead guitar respectively, Craig Setari on bass, and Armand Majidi on drums. They have been of New York's hardcore scene since the mid 80's. With over three decades into their career, the band shows no signs of slowing down on their continuing to release spirited hardcore punk. Their eleventh and latest album, Last Act of Defiance, was released in 2014 to positive reviews.
Have something to add? Tell us!