Sweet Dispositions spread through the atmosphere as Australian indie heavyweights The Temper Trap announced their return to Singapore in March.
The four-time ARIA Awards-winning group will be performing in the Lion City on Friday, March 10 at The ColiseumTM, Hard Rock Hotel Singapore, Resorts World Sentosa.
See also: Explosions in the Sky are returning to Singapore in early 2017
The visit is part of The Temper Trap's 2017 headlining and festival tour, for which they'll also stop by Manila for Wanderland Festival on March 3.
Tickets at SGD118 will go on sale via Sistic.com.sg, hotline (65)6348 5555 and all Sistic outlets on January 16, 10am onwards.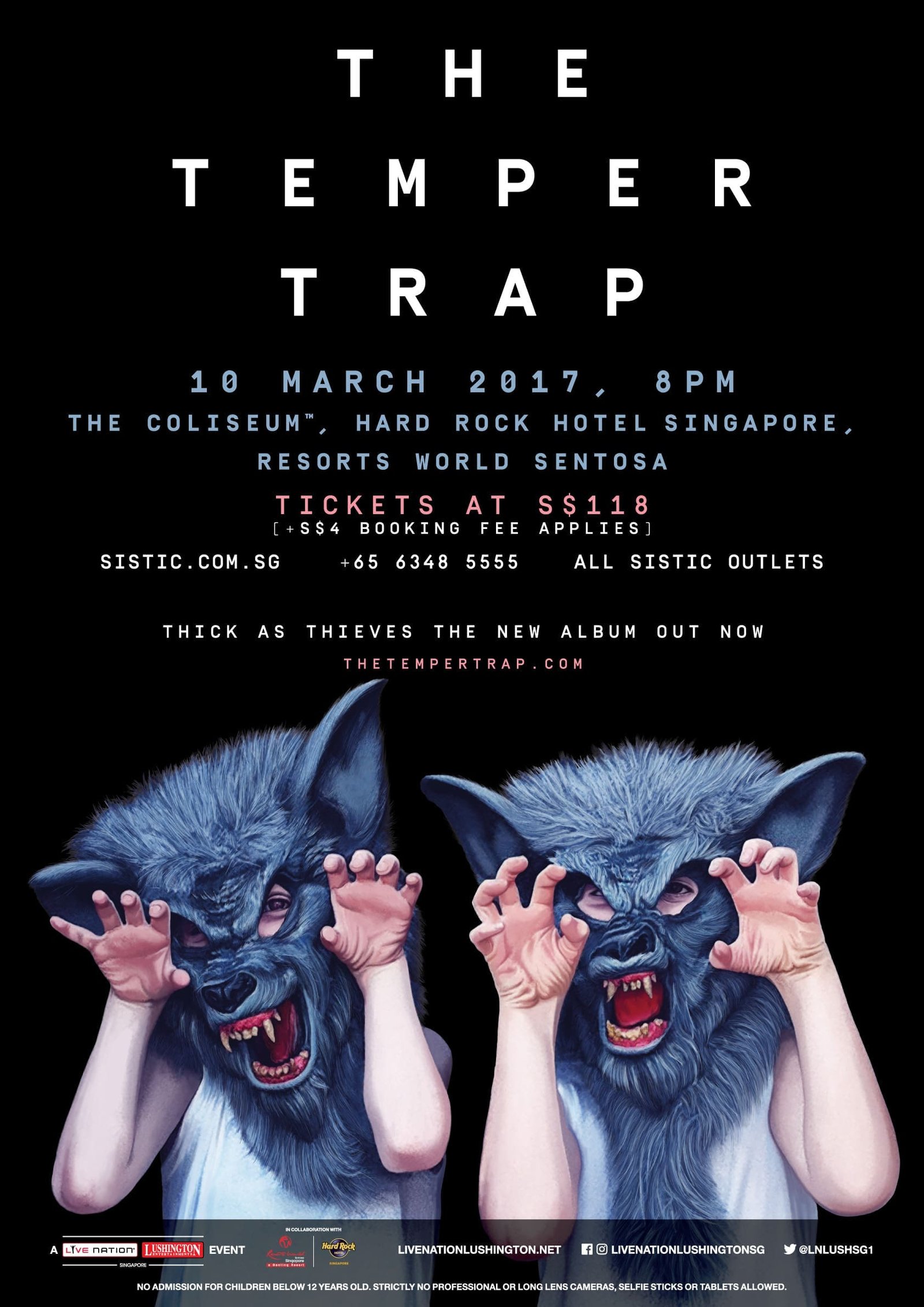 The Temper Trap have visited Singapore a few times since making their debut at the St Jerome's Laneway Festival in 2011. They were previously in town last May to promote their then upcoming studio album Thick As Thieves.
The Melbourne band first rose to local acclaim in 2006 with the release of their self-titled EP. Their 2009 debut album Conditions, propelled by the hit anthem "Sweet Disposition", sold nearly a million copies worldwide.
See also: Englishman in Asia: Sting is bringing his new tour to Singapore
With the success of 2011's self-titled album, the band supported Coldplay and the Rolling Stones on tour, played Glastonbury, Lollapalooza and Coachella while being nominated and winning a number of prestigious ARIA Awards back home.
The Temper Trap became a four-piece with the departure of guitarist Lorenzo Sillitto in 2013. But Dougy Mandagi, Toby Dundas, Jonathon Aherne and Joseph Greer forged ahead with their new record. "It pushed us towards certain place that we may have not gone had we still been five," said Mandagi. "It forced us to make everything leaner."
Their 2016 album Thick As Thieves, first without Sillitto, is the sound of a band who've taken risks but have also reconnected with why they fell in love with music in the first place. Here's the latest single, "Lost".
Have something to add? Tell us!