*Southeast Asia updates below
---
American boy group Why Don't We announced their dates change and cancellation for Invitation Asia Tour schedule due to the emergency surgery of Corbyn Besson.
See also: Melbourne's electropop duo Kllo to set foot in Thailand for the first time
After the boys' announcement earlier in May to embark on Asia with the group's debut world tour, today, Why Don't We made a statement to reschedule their Asia tour. This decision was to benefit Corbyn Besson's throat surgery recovery. According to their latest announcement, the boyband will be ready to be on the road again after Wednesday, August 15.
Unfortunately, the boys will have to cancel the show in Hong Kong. However, US Boyband's fans in Bangkok, Singapore, Manila, Seoul, Tokyo and Osaka, you all are still invited to their debut world tour. So far, the latest updates are only out for Seoul and Bangkok.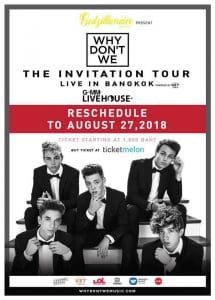 The boys will start their Asia tour firstly on Monday, August 20 in Seoul and will visit Bangkok on Monday, August 27 before moving on with the rest on the list. All concerts venues are left unchanged. For tickets holders, your tickets are still usable. Moreover, more seats are added to the shows. We will have to wait for further confirmations or announcements from Why Don't We. So stay tuned with us!
See also: Khalid is on his way to Asia with 'American Teen Tour'
In the mean time, let's cheer each other up with Why Don't We's latest track "8 Letters":
---
Update (Thu, Aug 9): Singapore's promoter Mode Entertainment announced its new date for Why Don't We live in Singapore. The show will be on Thursday, August 23 at the same venue. For those who bought the tickets already, you can still use your tickets to the rescheduled show.
Have something to add? Tell us!