An announcement made by MMI Live. The Canadian R&B singer will no longer make an appearance in Manila this December with his headlining music outing anymore.
See also: Years & Years are taking The Palo Santo Tour to Asia
Hello, our Filipino readers. We have some unfortunate news to announce. Earlier this morning, we've leanrt from the official Facebook of the music promoter MMI Live that The Weeknd aka Abel have removed Manila from his tour schedules.
According to MMI Live announcement, the cancellation is due to the stage production issues as they cannot meet some of the requirements. Tickets purchasers can collect the refund starting on Tuesday, December 4 – Monday, March 4, 2019.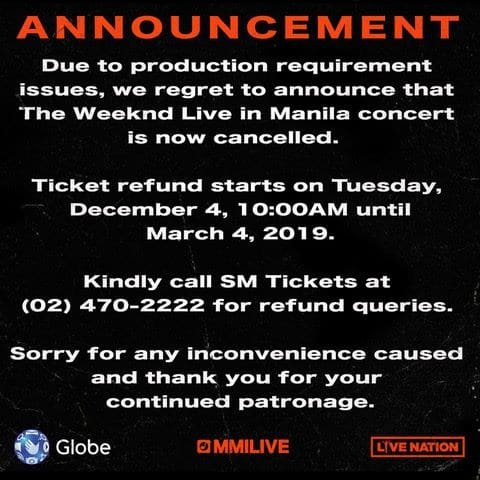 Formerly slated to take the stage at Mall of Asia Arena on Friday, December 7, the show was supposed to be Abel's debut full live performance in the country. Unfortunately, The Weeknd's fans in Manila will have to wait for another year as the show now is facing the cancellation even though it's just a few weeks away.
See also: Lauv to swing by Southeast Asia with Asia Tour 2019
However, aside from Manila, The Weeknd will still stick with the rest of the announced tour dates. Therefore, fans in Asia will still get to see Abel live on stage in Hong Kong, Bangkok, Singapore, Bali, Taipei, Seoul and Tokyo. See the tour dates, click here
Have something to add? Tell us!