We interviewed rising young music artist Alaina Castillo about her incandescent new EP – the voicenotes.
Released in English and Spanish versions, the EP contains four lush and delicately lovely tracks such as the multi-layered and light caress of 'pass you by' and the sultry R&B vibes of 'just a boy'.
See also: Alaina Castillo unveils 'the voicenotes' EP
ASL365: Hi Alaina Castillo, Vanessa here from AsiaLive365. Thanks for answering our questions. Congrats on the new EP! We're loving the vibes and feelings off of it. It's a really special piece.
We especially love the poignant iridescence of 'pass you by'. It's subtle yet deeply inspiring and moving – like the first light of a sunrise, when it's still almost all dark. What is the story behind the song? An opportunity/dream, a relationship, or life itself?
Alaina: 'pass you by' talks about learning to not live in the past and only focus on the positive and the present because life will pass you by if you're constantly thinking of what you could've done or all the problems from the past. It's a big reminder to myself to not overthink everything so I hope it helps anyone who listens to it and needs to hear that message.
ASL365: You've mentioned that "having music to help you through those (voicenotes) moments is what really matters in the end." What sort of music or whose music would you say has inspired or pushed you and made you who you are today?
Alaina: I think a lot of R&B and pop music makes up the list of what I used to listen to. Usher, Rihanna, Drake, & Adele are just some of the people I used to listen to in middle school. I feel like I was able to take a little from each and then put it into my own style of music so that I could eventually create a different sounding vibe that still had R&B, pop, and some alternative sounds to it.
ASL365: What was it like working with Sam Roman (RØMANS) again since 'antisocial butterfly'?
Alaina: Working with RØMANS is super easy and fun. It's easy to talk to him and it's always fun to see how he works in the studio and hear what different sounds he can add to a track.
ASL365: The Korean super boy band BTS discovered your song 'just a boy', leading to more exposure to your music. What was that like?
Alaina: The week that this happened was such a blur because I was so excited and happy and just remember not knowing what to say because I couldn't believe he listened to my song. Whenever more people started to listen to the song and like it, I am super happy and thankful.
ASL365: We love the album art on both the voicenotes and the Spanish version mensajes de voz. Who did the artwork on the albums?
Alaina: We wanted it to feel like it was just me in my room with my thoughts so that's where the idea came from but the wonderful people who created it were Chris Shelley and Jessica Severn.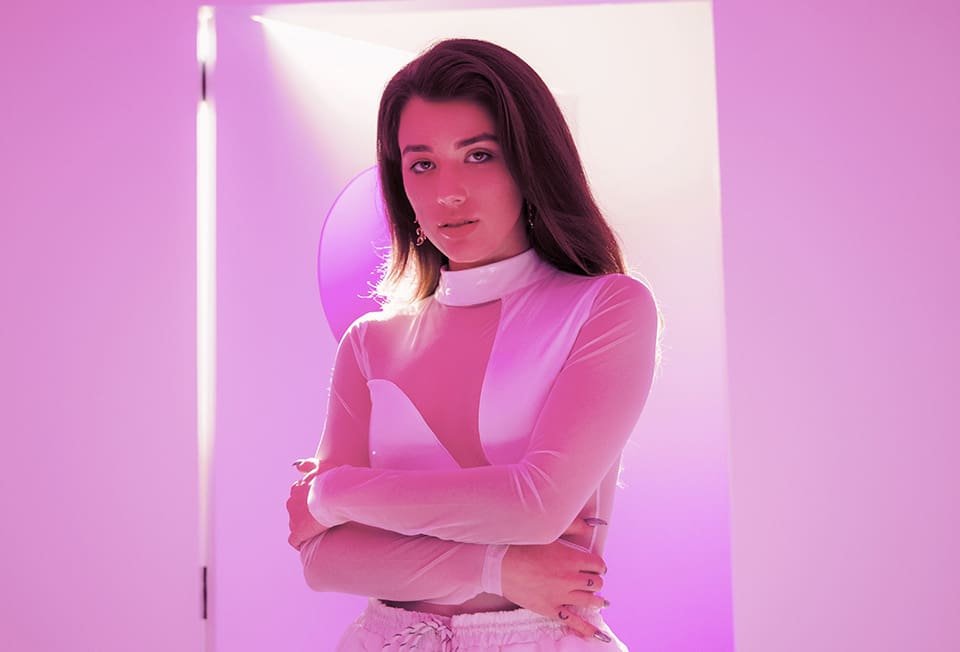 ASL365: Is it easier to sing in English or Spanish, and how do you feel the poetry of the lyrics differ in the two versions of the new EP?
Alaina: I think singing is easy in both languages because it's mostly writing in Spanish that trips me up but when I start singing, it's all about just feeling what I'm singing and not stressing about the lyrics. The translation to Spanish from English isn't exact but I feel like the Spanish lyrics still have a sort of poetry like feeling to them because you're having to change meaning slightly and use different words and that's one of the reasons why I love mensajes de voz.
ASL365: A look at your earlier videos on YouTube show some ASMR videos. What inspired you to sing in that style?
Alaina: When I was doing covers during that time, ASMR was super big so I wanted to find a way to use it but make it my own style which is where the sing you to sleep videos came from. I didn't expect it to do as well as it did but when people said that it helped them with sleeping or anxiety, I decided to keep doing it and just mix up the four or five songs I did per video.
ASL365: You're now a US representative of Spotify's new RADAR programme. What has that experience been like and what would you say has changed since your earlier YouTube days?
Alaina: Super thankful! I never thought I would have been given this insane opportunity and I just want to make the most of it. The change from YouTube to this was awesome because I got to meet so many amazing people and my music has been able to reach a lot of new people so I feel so grateful and I can't wait for what the future holds.
ASL365: Any words of advice to other young aspiring musicians hoping to make music their art like you?
Alaina: Don't stop. Make a posting schedule, don't give up, keep going, and stay true to your sound and who you are as a person. Music is about being creative and expressing yourself so do that until the right person or opportunity finds you and can allow you to grow as an artist.
ASL365: Which part of the world are you most excited to tour to once the global situation eases?
Alaina: Every single part! I've never been to Asia before but it has always been a dream of mine so I definitely can't wait to tour there and see all my fans and the city life!
ASL365: Thanks again Alaina. Take care and keep safe!
Listen to more of Alaina Castillo on Spotify:
Have something to add? Tell us!