LA COMEDY LIVE and ADRIAN BOHM PRESENTS are thrilled to announce that legendary comic actor John Cleese will return to Singapore with a brand-new show 'In Praise of Silly' on 7 March 2020, 8pm at University Cultural Centre Hall, NUS!
John Cleese is an award-winning English actor, comedian, writer, and film producer. He's best known for his various roles in the British comedy Monty Python's Flying Circus, his role as Basil Fawlty in Fawlty Towers and his various roles in the British comedy The Frost Report. He is also known for his award-winning role as Archie Leach in the American / British comedy film A Fish Called Wanda.
One of the most recognized and popular comic performers in England and the United States, Cleese won character parts in numerous movies, including Time Bandits (1981), Silverado (1985), The Out-of-Towners (1999), Charlie's Angels: Full Throttle (2003), and The Day the Earth Stood Still (2008). He had leading roles in several comedies, such as Privates on Parade (1982); Clockwise (1986); A Fish Called Wanda (1988), perhaps his best-known film; and The Naked Wanderer (2019). In 1999 he first appeared in the recurring roles of R the gadget master and Nick the Nearly Headless Ghost in the James Bond and Harry Potter film series, respectively. He also did voice work in numerous films, including the Shrek series (Shrek 2 [2004], Shrek the Third [2007], and Shrek Forever After [2010]) as well as Charlotte's Web (2006)
In 2014, LA Comedy Live and Adrian Bohm Presents presented John Cleese in two sold-out nights at UCC Hall, NUS in Singapore.
Mr. Cleese, who until recently was a Living Legend, was last week promoted to British Institution. In that capacity, he will be regaling his Singapore audience with a wide variety of silly behaviours, incomprehensible mimes, and Algerian love songs. These will be interspersed with moments of great philosophical significance and profound spiritual insights even sillier than the other bits.
"It's been too long since I was in Singapore. Last time I enjoyed it very much and looking forward to coming back. This will be the only Asian stop in South East Asia. See you all in March."
– John Cleese
Don't miss the chance to see the comedy royalty in this thrill-of-a-lifetime evening!
Early bird tickets are S$118, S$138, SS$158 and are on sale from 19 Dec 2019.
Standard tickets start from S$128, S$148, S$168 and will be on sale from 02 Jan.
All tickets will be available via

SISTIC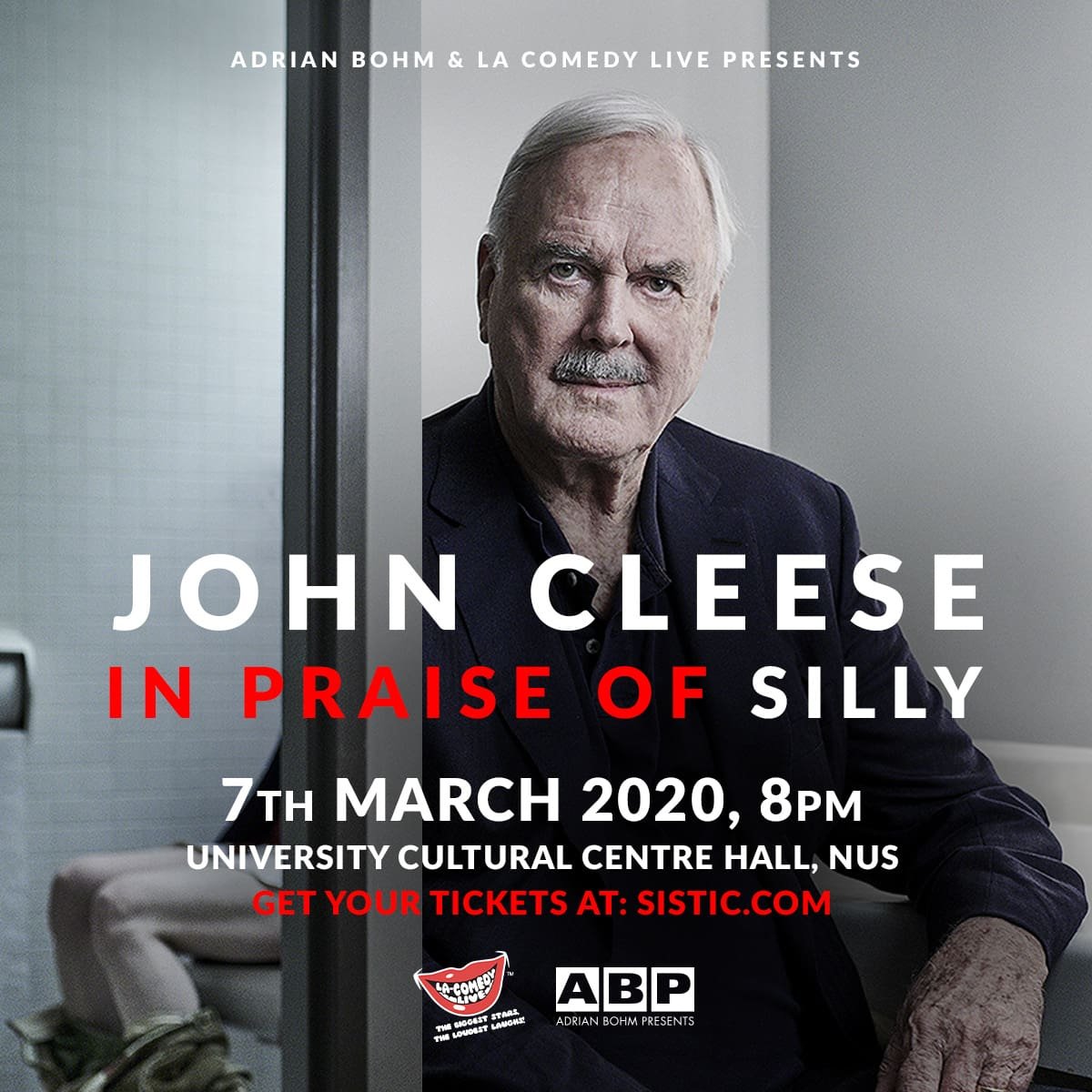 Have something to add? Tell us!