Look out for some psychedelic colours as Brighton's Psych-Pop band FUR heads to Singapore to be part of the 6th show of the Rising Star Series by LAMC Productions.
Hailing from Brighton, England, FUR's unique sound has seized the attention of fans and critics alike with their vintage guitar pop, jangly melodies and sunlit charm. Giving '60s-influenced guitar sounds a fresh and modern twist, the bunch has already made their mark and quickly became one of the most exciting acts to watch!
Forming just over three years ago, the quartet is made up of William Murray, Harry Saunders, William Tavener and Flynn Whelan who create music that they themselves describe as "like if a '60s band were doing something modern" and have already been creating a buzz with their vibrant nostalgia-tinged bops.
'If You Know That I'm Lonely', the jangling, sepia-tinged and '60s-inflected bop is currently sitting at over 8.8 million views on Youtube, while the equally nostalgic and serenading piece 'What Would I Do' sits at 1.3 million Youtube views.
With a full quartet on board, the band began to pen tracks based equally in the '00s indie they'd grown up with and an increasing rekindled interest in the older music they'd always known from home.
"It started off [influenced] by The Strokes and The Cribs, who are another band we all really adore. But as we kept on writing, I found myself really enjoying and being really good at tapping into that [other] place,"
– Murray.
"So then it was a case of looking at what sounded like FUR and getting that balance where it doesn't sound like a band from the'60s, it sounds like if a '60s band were doing something modern."
So far this outlook has earned them critical plaudits from tastemakers such as Steve Lamacq, as well as gaining them support slots with a truly diverse set of artists including Miles Kane, The Brian Jonestown Massacre and London crooner Matt Maltese.
The band are currently on tour in the UK and Ireland. Their latest EP, 'FUR' was released on Spotify on Valentine's Day this year, and their latest single 'Nothing (Until Something Else Comes Along)' came out in mid-July.
Brighton's Finest calls them, "Bewitching and delightful, with a record brimming with ideas of love and compassion, Fur are a heavenly outfit from tip to toe.'
Not surprisingly, the UK is not the only place where the FUR sound have been resonating with fans.
"I think the one thing we really appreciate is people telling us we have a fanbase in places we never expected. Indonesia has become a big thing, and when people in Peru say there are whole groups of people out there that love us, that's amazing."
– Flynn
Always alluring, with an old-school charm and enough modernist tendencies to bring them bang up to date, FUR looks like the perfect choice for the Rising Star Series, don't they?
Well, they're not the only ones!
Joining their tour stop in the little red dot is alt-rock/shoegaze band from Singapore, 'Coming Up Roses', who will be opening the show for FUR.
Folks may remember this Singaporean band from the popular alternative music festival Baybeats, where they were one of the six Budding Bands in the 2018 line-up. The band recently released their album, 'Waters' in May 2019.
Catch them along with FUR, as they combine elements of pop, grunge, heavy-metal and shoegaze and manifests their emotions through the use of evocative vocal melodies and expansive sonic textures.
Looks like we're heading for a heart-stealing and enthral November, guys!
Both bands with perform at Hard Rock Cafe on 6 November 2019.
Early bird tickets are at SGD$88 and will go on sale on Monday, 23 Sept 2019 via SISTIC.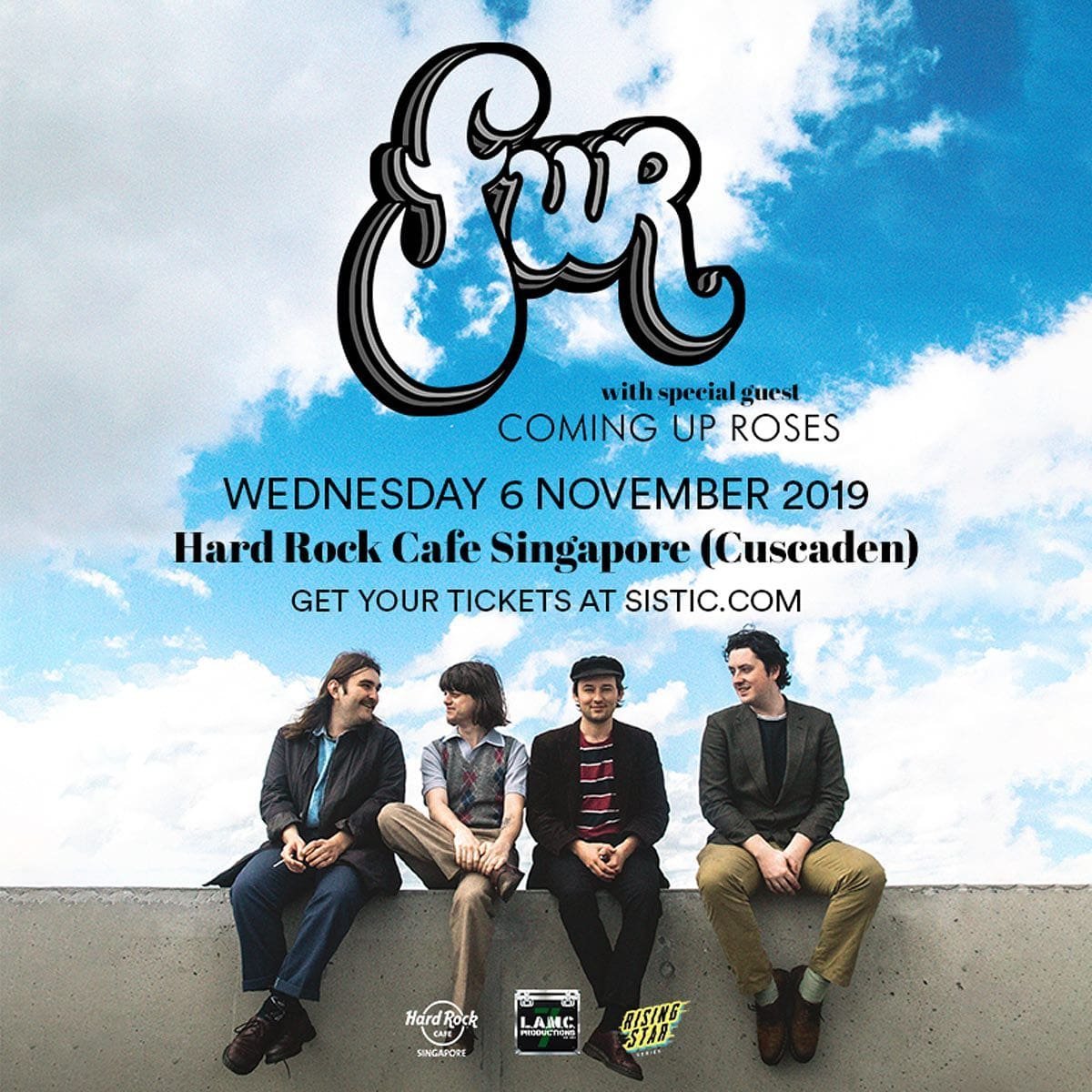 Have something to add? Tell us!