Collective Minds and AEG Presents Asia have announced that popular indie artist Rex Orange County will be heading to Singapore next May. The 21-year-old will also head to Jakarta, Bangkok and Manila, with more cities to be announced soon!
Look up indie fans! Alexander O'Connor, or otherwise better known as Rex Orange County is heading to Asia in May 2020, and boy are we all excited!
His debut album, 'bcos u will never b free', self-released on Soundcloud when he was barely 18 and just arrived in London, caught a wave of interest. Its lo-fi textures and hi-def emotions led to a hook-up with Tyler, The Creator. He asked the then teenage Alex O'Connor to come
to Los Angeles, where he wrote and sang on two tracks on the album that became 'Flower Boy'.
Inspired, Rex turned to making his own album proper, 2017's Apricot Princess, a beautiful, woozy, heart-shaped tribute to his girlfriend, which had a Number 2 slot on the BBC's Sound Of 2018.
His latest album 'Pony' released two months ago is both simple and smart: five songs laying open the troubles that beset Rex over the last year or so, then five tracks teeing up how he turned things round.
Or, as he puts it:
"The first half to me is the angry, reflective thing. And the second half is: now I've gotten over it."
The talented singer-songwriter who grew up listening to Queen, ABBA, Stevie Wonder, as well as American Pop Punk artists like Green Day and Weezer speaks about some of the songs in his recent album.
'Face To Face' blooms with kaleidoscopic, multi-tracked vocals and an energetic spring in its step. Its ambition set a benchmark for Rex and Baptie (his engineer, producing partner and wingman) when they began work in May 2018. 
"We made Face To Face quite early on. It sounds quite similar to how it does now, but it was surprising to both of us to have something that was so much more expansive, just sonically
Rich. Ben and I realised that we were going to have to raise the bar to this level. That is a cornerstone song for the album, and so is 10/10." 
Alongside girlfriend Thea, 'Never Had The Balls' also features pizzicato strings, birds tweeting and a cracking fuzzy guitar solo.
"I really wanted to get Albert Hammond Jr or Rivers Cuomo to do it," admits Rex. "I emailed them both but neither of them were able to. So I did it. I'm not really a guitar player, but it was worth it. The subject matter is reflecting on the fact that I was lost," he continues, "but I'm back now. It's very much in the present looking at the past. At the end it's saying: I am the man if you're looking for a positive time, because I am better."
That closing run of songs includes the Randy Newman-esque 'Everyway', a classic piano ballad, and 'It Gets Better', glowing with strings and beats.
Both, he says tenderly, "are about the person I love".
Rex Orange County signs off with his best vocal and affecting, mournful brass on the quietly epic 'It's Not The Same Anymore'. 
"You might say that's a sad little phrase. I'm not trying to end on a sad note, but artistically I like the idea of people, maybe wanting to cry on the last song. And it felt like it had to be a long, reflective song. But the ultimate point is: it's not the same anymore – it's better. It's the most positive thing I could say. My life has fully changed." 
It all comes back to that journey, from despair to here. From feeling only halfway to happiness, to feeling like a ten out of ten. If there's a concept, it's that: things change, people change, we learn a lot, and I've learnt a lot. I clearly gravitate towards speaking my truth."
"I just love to play live with my band," he concludes.
"It's just the most rewarding part. And now I'm way happier than I was before, I want to let people hear that in the songs – but also hear what it took to get here. That's all."
Rex Orange County will perform in Singapore on 11 and 12 May 2020 at Capitol Theatre.
Tickets will go on sale on Dec 17, 2019.
Tour dates:
9 May 2020 – Jakarta – Tennis Indoor Senayan
11 May 2020 – Singapore – Capitol Theatre
12 May 2020 – Singapore – Capitol Theatre
14 May 2020 – Bangkok – Moonstar Studio
16 May 2020 – Manila – New Frontier Theater
Listen to his album here: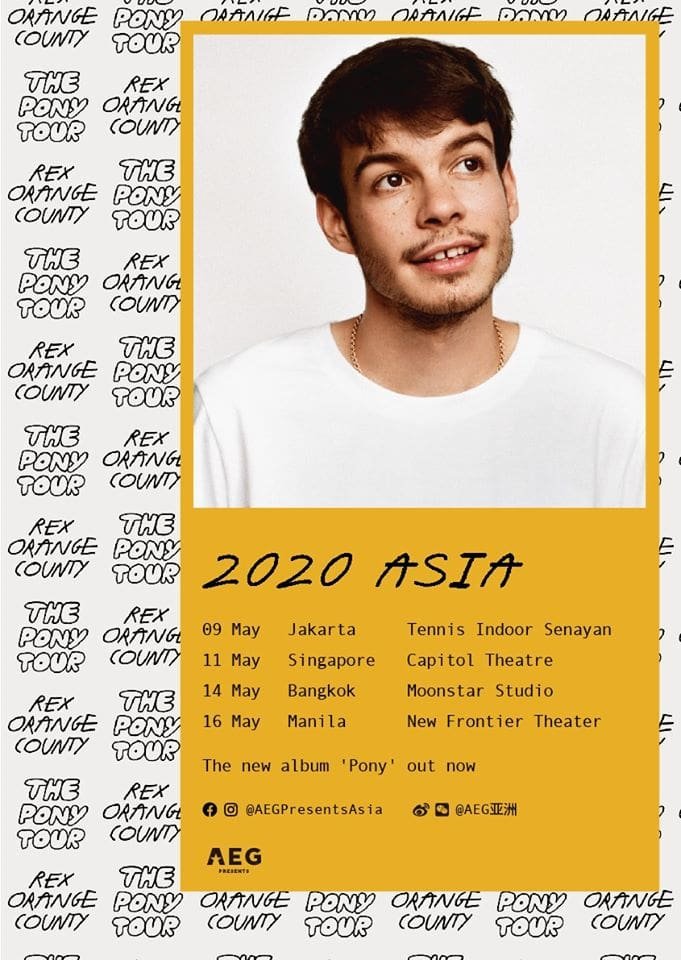 Have something to add? Tell us!