Music acts from Universal Records Philippines and PolyEast Records join together as Artists for Silent Heroes to sing tribute song dedicated to healthcare workers fighting against COVID-19.
While we are staying at home during the COVID-19 pandemic, healthcare workers are out there working tirelessly on the frontlines to help those struggling during the virus outbreak.
To recognize the importance of these 'silent heroes' in this time of crisis, artists from Universal Records Philippines and PolyEast Records have come together to sing a tribute song as Artists for Silent Heroes.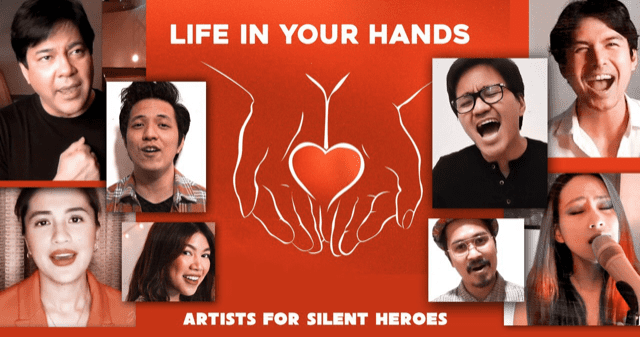 The ensemble consist of popular Filipino talent including Martin Nievera, Christian Bautista, Ebe Dancel, Julie Anne San Jose, TJ Monterde, Eunice Jorge of Gracenote, Tutti Caringal of 6cyclemind, Kyle Juliano, Janina Vela, Kiara San Luis of Imago, Daniel Paringit of Better Days, Kurei, Sassa Dagdag, Drei Rana, Selena Marie, and Raffy Calicdan.
The song, titled 'Life In Your Hands', is a modern take of the classical folk song 'Auld Lang Syne' with lyrics reflecting the current world situation. The track's calm and soothing lyrics give thanks to the healthcare workers who try to keep us safe each day from the ongoing pandemic.
A collaboration between the two record labels as well as the Philippine Chinese Charitable Association and the Filipino Chinese General Chamber of Commerce, all proceeds made from the song are for the benefit of the Chinese General Hospital and Medical Arts' frontliners.
'Life In Your Hands' will be available for purchase on iTunes and streaming on Spotify starting tomorrow on May 6, 2020 under Universal Records.
In the meantime check out the music video which features some of the participating artists singing their hearts out for the silent heroes.
Have something to add? Tell us!