Due to the recent accident at Manila airport, K-pop girl group GFRIEND decided to postpone their full concert 'Season of GFRIEND' to this Sunday.
See also: Tiffany Young is bringing her 'Asia Fan Meeting Tour' to Bangkok
According to an unexpected landing accident of Xiamen Airlines at Manila airport on Friday, August 17, South Korean pop group GFRIEND reschedule their performance date to be on Sunday, August 26. The show will be taking place at the same spot— Kia Theatre.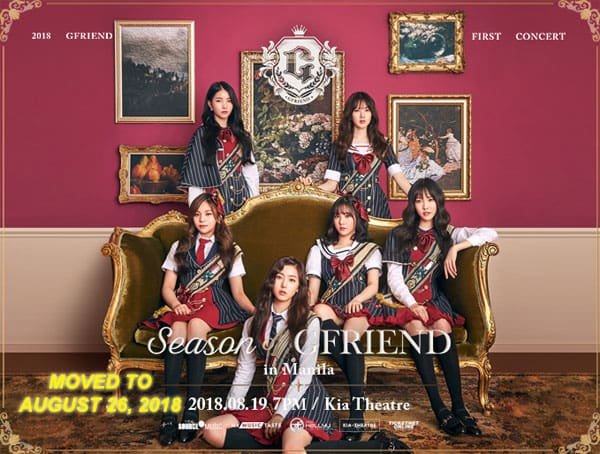 Tickets, priced at PHP2,415 / 3,150 / 3,675 / 4,620 (VIP) and 11,550 (VVIP), are still going on-sale through TicketNet. VVIP ticket holders will be entitled to a hi-touch with the group, a soundcheck visit and a red carpet access. Fans who requested GFriend on MyMusicTaste will receive a 20% discount for making the show possible. Find out more here.
See also: iKon announced their debut world tour 2018 Continue Tour
GFriend, or Yeoja Chingu, are also praised for their immensely powerful choreography and knife-like synchronisation. Comprising Sowon, Yerin, Eunha, Yuju, SinB, and Umji, the group became one of South Korea's hottest acts within a little over a year since their debut in January 2015.
Have something to add? Tell us!