While it looks like Bangkok won't host its own international rock and indie music festival à la Urbanscapes and We The Fest any time soon, you can count on it to snatch a few interesting names from those packed lineups and put together their own headlining gigs. It happened with Mew and Phoenix, and this next fan favourite is no different.
Promoter Viji Corp (Oh Wonder) announced today LA-based indie pop three-piece LANY are playing in Bangkok for the first time on Wednesday, August 2 at DND Club. Tickets are THB2,000, going on sale through Thai Ticket Major starting June 2.
See also: London indie rockers Splashh to perform in Bangkok, Singapore and Bali
That's not all. Singaporean indieheads can rejoice as Secret Sounds is getting in on the the LANY train as well. Fans can witness LANY's Singapore debut on Thursday, August 10 at *SCAPE The Ground Theatre, with tickets going on sale tomorrow (May 26) through APACTix.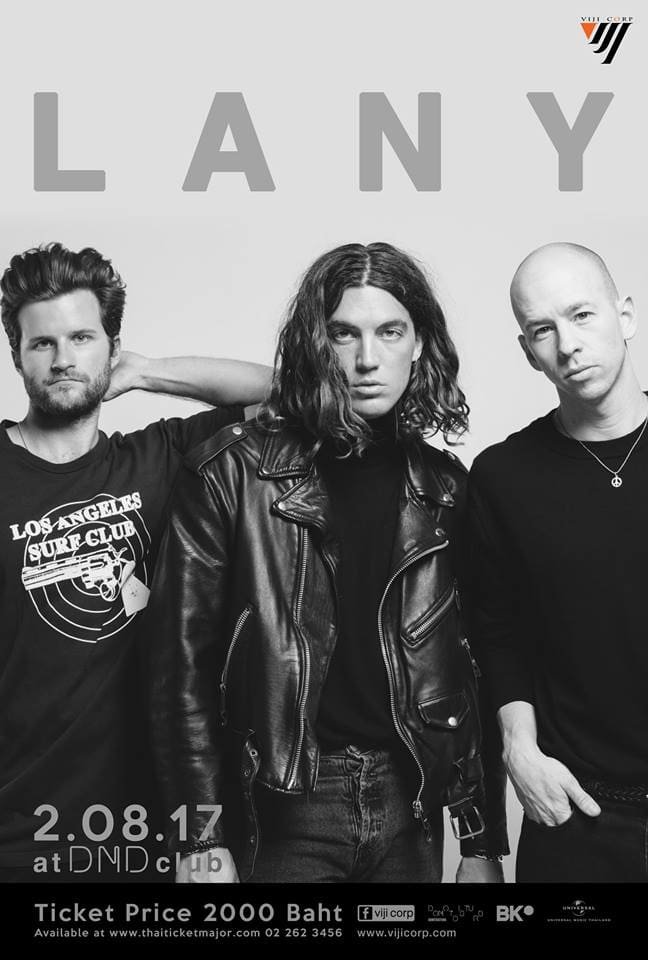 The performances come ahead of the group's scheduled appearances at Jakarta's We The Fest (Aug 11-13) and Malaysia's Good Vibes Festival (Aug 12-13).
Formed in 2014 in Nashville, LANY are Paul Jason Klein (lead vocals, keyboard, guitar), Les Priest (keyboards, guitar, backup vocals) and Jake Goss (drums). Their name is an acronym for LA and New York, marking their dream of spreading their vibrant 80's FM pop -inspired music coast to coast.
See also: Synth-pop duo Oh Wonder to perform in Bangkok for the first time
The group self-released their early EPs Acronym and Loved You before signing with Polydor Records (Years & Years, Madonna) in 2015 and received widespread recognition with Make Out, featuring their best known track, "ILYSB", and its followup kinda, with online hits "pink skies" and "WHERE THE HELL ARE MY FRIENDS". LANY are due to release their self-titled full-length album on June 30.
Have something to add? Tell us!