Hot off the release of their second tune of the year, 'Storm', we interviewed budding Austrian DJ-producer duo Second Floor.
The duo, whom were previously known as Second Floor Rumour and comprises of members songwriter Alex and producer Greg, are veterans within the music industry. After eight years of rock music, the duo decided to form a project together focusing on catchy electronic pop music. They have collaborated with big names within the EDM scene including John Asher, vocal engineer of The Chainsmokers, and mixing legend Mark Needham.
Also read: Second Floor returns with summertime anthem 'Storm'
The pair's sophomore single for this year offers fun, flowing melodies and catchy beats paired with harmonic vocals (part of the song is sung by the duo themselves!) and emotional lyrics. Listeners will find lyrics for 'Storm' relatable as the song dives into the difficulties of a rocky relationship of two lovers trying to rough out the 'storm' together.
We catch up with the duo to talk about their music and what's in store for them amidst the COVID lockdown!
AL365: Hello, congratulations on the release of your second tune 'Storm'. You both have been involved in the music industry for the past eight years and it shows. Tell us more about your musical experience before joining together as Second Floor. How did you get into DJ'ing and music production?
Alex: We've always wanted to try it out, even when we were part of the pop-rock band. After the band split up, it just felt like the right place at the right time. So, here we are! 😀 
Greg: Coming from a rock band, we are used to filling up an entire car with guitar gear for one band member. How good is producing an entire album on a freaking laptop? That freedom was one of the main reasons that pulled me towards electronic music production.
AL365: How did the name Second Floor come about?
Alex: We just shortened it from Second Floor Rumour to Second Floor, because we generally think it's easier to remember and we both actually like it better. It's no 'rumour' anymore.
Greg: Second Floor stands for the person in the hotel room above you. Who is he/she? Would they like you, would you find them attractive? Some things are better to just dream about.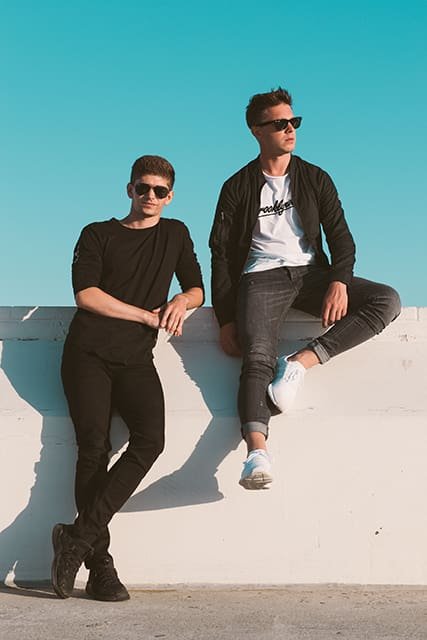 AL365: Your newest track, 'Storm', deals with a rocky relationship as two lovers try to ride out the storm. Is there a story behind the song?
Alex: Yeah, it is basically all about this question: 
Would you rather be hated for what you are than loved for what you're not?
In real life this question seems to be far more complex than it looks on a piece of paper.
AL365: Both 'Storm' and your previous single, 'Pier No. 26', not only showcases your skills in production but also your singing talent! Which aspects of the creative process do you find to be more challenging?
Alex: For me as a songwriter, the most thrilling and most exciting part is to find the right word for the right spot with the right melody.
Greg: Most challenging is the concept of choice fatigue. When you sit in front of the laptop, you literally have any sound in the world at your fingertips. So, suddenly "too much choice" becomes a problem. Sometimes the good ol' dusty guitar can say more than a thousand synthesizers.
AL365: From your two tracks, you both have experience in producing catchy summer tunes and infectious pop-dance bangers. Any plans to branch out to different genres?
Alex: We're never really settling with genres. So, there is a chance to hear Second Floor tracks with, for example, hip hop influences in the future!
Greg: Big fan of Don Diablo's style of future house here. As we progress, we will surely start building a set to play live. This will push us a bit into a "harder" EDM genre which our fans can party to at a concert.
AL365: Who are your biggest influences and favourite artists?
Alex: Chris Daughtry. Forever and always. 
Greg: There is really not one. But if there had to be – Freddie Mercury.
AL365: You guys have been documenting your musical journey with your reality TV series, 'Second Floor Rumour – Diaries' on Amazon Prime. What has been your favourite moment/highlight from the show?
Alex: For me, the very second it actually went live on Amazon Prime. And, getting responses from people out there telling you "I've binged your series". Feels like Hollywood for a minute. 
Greg: Oh yeah, what Alex said – the filming process is brutal but once you see the final outcome – I love watching my own show hahaha!
AL365: Were there any difficulties in the creative process of the show?
Alex: It was really hard for us to imagine how it'll look like in the end. Luckily, we've got the best camera guy/director and all-in-one producer, Forchti, with us on the road. Give him a shoutout: @forchti_thecameraguy! 
Greg: For sure. We never really knew what we wanted from the series until we were done filming. But that also makes it quite unique.
AL365: The second season kicked off in November last year with just two episodes. When can your fans expect more episodes from the show?
Alex: The rest of Season 2 is coming in late Summer 2020!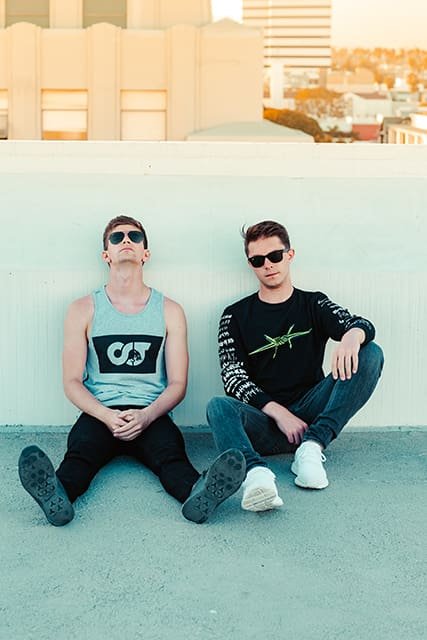 AL365: As you are already aware, the world is still under lockdown due to the coronavirus situation. What have you guys been up to during lockdown?
Alex: We're planning and working on our releases. And we registered on TikTok. 
Greg: You should check out our TikTok. Other than that we used the extra time for music.
AL365: Looking ahead, what do you have in store for your fans? Any upcoming projects or touring dates to Asia maybe?
Alex: More new music is coming in 2020. And we're working hard to finally hit the stage in 2021!
Greg: I'm all over Asia! Let's do it.
AL365: Once the pandemic is finally over, where would you like to be?
Alex: We're planning to go to LA again to produce and write songs. And we'll hit a club in Vienna and get hammered. It's been too long.
Greg: LA, baby – no place I'd rather be than Cabrillo Highway.
AL365: Suppose your music career is put on hold on, what would you be doing instead?
Alex: There is no way that I could imagine my life without putting music right in the center of my everyday life.
Greg: I'd try to be an astronaut. I literally watch ISS NASA livestream on TV. That is beauty.
AL365: As aspiring EDM producers such as yourselves, what is some advice you can give to those who share the same passion and dream?
Alex: Do the fucking job and try to create something for yourself over years of dedication. And try things out, even though your mama tells you not to.  
Greg: Just start & put in the hours. How bad do you really want it? 😉
Have something to add? Tell us!