Tickets to Oh Wonder Live in Bangkok went on sale Wednesday (May 31) morning and sold out in eight minutes.
If you are not part of the lucky lot, don't give up hope just yet. Due to high demand (that way exceeds the size of the venue) promoter Viji Corp has confirmed a second show which will take place on Monday, July 31, the day before the original show, at DND Club.
See also: American indie pop trio LANY to perform in Bangkok and Singapore
Tickets are THB2,000 and will go on sale this Saturday, June 3 (10am) through Thai Ticket Major. Fans can log on for online queuing starting 9.50am and a maximum of two tickets may be purchased per transaction.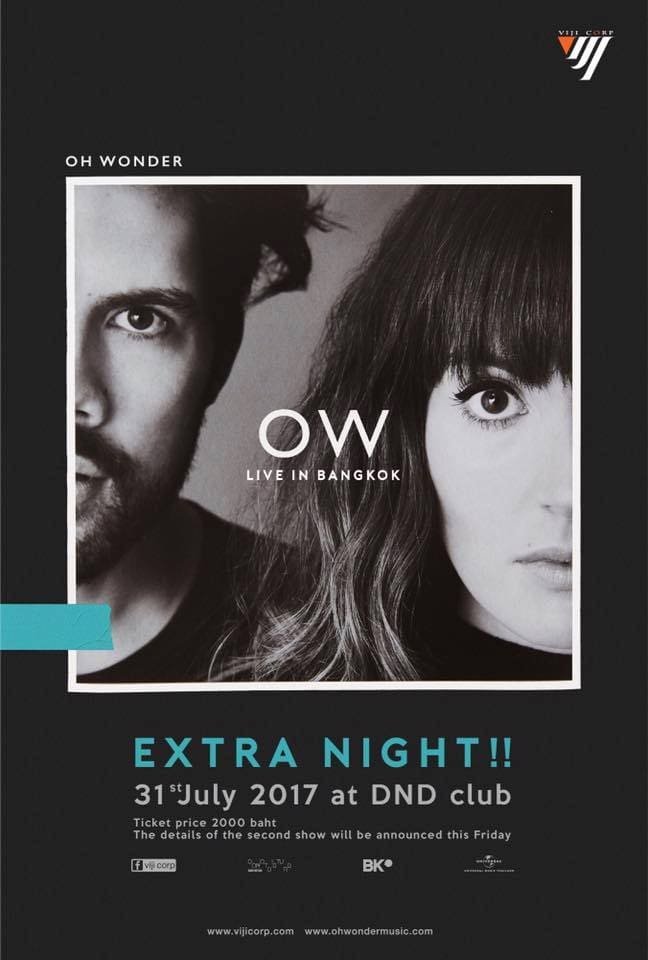 The promoter's announcement came shortly after Oh Wonder had tweeted they were "looking to add a second night" Wednesday night.
WOAH apparently our show in Bangkok sold out in 8 minutes?! 😲 That's crazzzzzy! Looking to add a second night – stay tuned!!

— Oh Wonder (@OhWonderMusic) May 31, 2017
While in Asia the synth-pop will also perform in Kuala Lumpur (Jul 19), Manila (Jul 21) and at Seoul's Holiday Land Festival (Jul 29-30).
See also: South Korea's most buzzed-about indie band Hyukoh may be coming to Bangkok
Formed in 2014, Oh Wonder are Anthony West and Josephine Vander Gucht. They're known for "Drive", "Landslide" and "Without You" from their 2015 self-titled debut album. Their followup, Ultralife, is set to be released on July 14. Here's the second track off the album, "Heavy".
Have something to add? Tell us!