Brace yourselves for another trip down memory lane, Bangkok. American "Dukes of R&B" All-4-One are heading this way with their ultimate 90's love ballads.
K Group and Godzillionaire Entertainment, the same team behind May's #TBT Nelly concert, announced today the Grammy-winning group is performing in Bangkok for the first time on Saturday, August 19 at Thunder Dome Muang Thong Thani, with a full live band and local crooner Peck Palitchoke as special opening act.
See also: Here's why Asia may never get to see Adele
Tickets will be available through Thai Ticket Major and its outlets July 11 onwards, going at at THB1,500 / 2,000 / 2,500 / 3,000 / 3,500 and 4,000.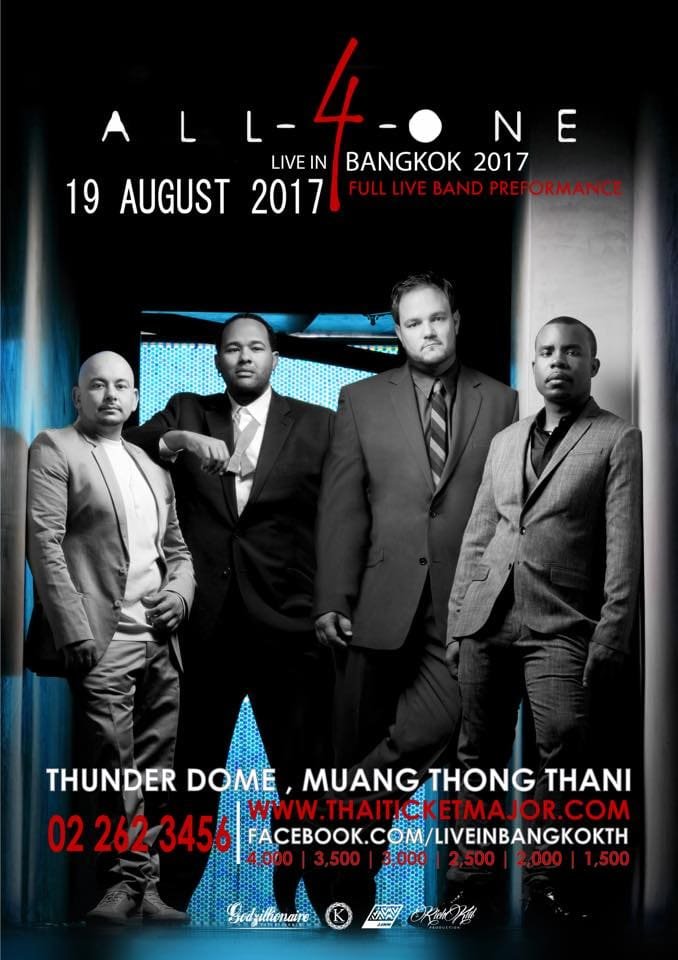 Formed in 1993, All-4-One are Jamie Jones, Delious Kennedy, Alfred Nevarez and Tony Borowiak. They're best known for "Someday", "These Arms", "So Much in Love" and "I Swear", the last stayed atop of the Billboard Hot 100 chart for eleven consecutive weeks and remains the chart's one of the most successful singles of all time.
See also: Foo Fighters to perform in Bangkok after two decades
Since their debut, the group has released eight studio albums, including 2015's Twenty+. Expect to hear the album live as well as All-4-One's gorgeous classics.
Have something to add? Tell us!